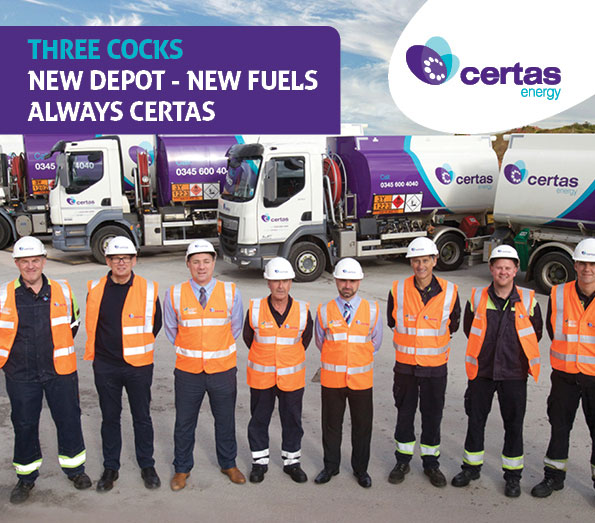 Certas Energy – the UK's largest independent supplier of fuels and lubricants – has officially reopened its South Wales depot, providing its portfolio of high performance fuel and lubricant management solutions to customers across the region.
The purpose-built 'Three Cocks' depot at the site in Powys, South Wales, has reopened following the completion of a major refurbishment project and is now open for deliveries.
The Certas Energy site will supply gas oil, DERV and heating oil (Therma35 for commercial and farming) as well as Kerosene and Premium Kerosene (Glowmax), to agricultural, commercial, industrial and domestic customers across the region. With a knowledgeable and friendly local team on-hand to guarantee delivery of a range of quality fuel products, Certas Energy can provide homes and businesses with a reliable fuel source all year round.
With a focus on personal customer service and local deliveries from teams who take the time to get to know every customer, Certas Energy makes it easy to keep businesses moving – from farms or construction sites, to schools, homes and haulage companies.
Jed Dandy, Regional Director at Certas Energy, comments: "We're thrilled to have invested in the Powys area with our newly refurbished site and to be back in the heart of the South Wales community.  Three Cocks was a popular depot, and it's great to be reopening our state-of-the-art new facilities to serve local customers with our local team.
"With over 100 combined years of heritage in fuel and lubricants, we pride ourselves on understanding the needs and priorities of all our customers. This, paired with our local distribution network and commitment to service excellence, means that customers from Brecon to Builth Wells can rely on us to keep their homes warm and their businesses moving."