Slider 1
Cleaner fuel alternative
With reducing harmful emissions high on the agenda,
what are your business plans for the transition to zero?
Wherever you are on your journey, reduce your impact today
with Shell GTL Fuel, a cleaner-burning diesel alternative,
supplied by Certas Energy.
OFFSET UNAVOIDABLE CARBON EMISSIONS
Take the additional option of Shell GTL Fuel with carbon offsets to reduce your environmental impact and carbon footprint with each fuel order with Certas Energy. 
How can Certas Energy help your business to be cleaner and greener with your next fuel order of Shell GTL Fuel?
SHELL GTL FUEL WITH CARBON OFFSETS
The world needs more and cleaner energy
The Paris Agreement aims to keep the global average temperature rise well below 2°C above pre-industrial levels, and to pursue efforts to limit the global average temperature increase to 1.5°C. 
This agreement has sent a signal around the world: climate change is a serious issue that governments, businesses and society are determined to address.
Avoid. Reduce. Compensate.
As businesses and consumers seek to cut carbon emissions, there is no single solution to keep the rise in the global average temperature well below 2°C.
All solutions are needed to make drastic cuts to the level of carbon dioxide (CO2) in the atmosphere:
AVOID emissions with solutions that emit no CO2
REDUCE emissions wherever possible
COMPENSATE emissions that cannot be avoided or reduced
Turning to nature to combat climate change
Nature offers immediate, scalable and cost-effective pathways to significant net emission reductions, which are necessary for society to achieve the goals of the Paris Agreement on climate change.
Nature-based solutions projects store carbon, produce oxygen, provide habitat for threatened and endemic species, and support the sustainable development of local community initiatives.
Offset carbon emission with your cleaner fuel order
Carbon offsetting with Certas Energy and Shell's nature based solutions can compensate for the residual emissions that cannot be reduced through other carbon reduction activities, such as promoting energy efficiency or utilising renewables. Talk to the Certas Energy Team to find out how your business can offset carbon emissions with each Shell GTL Fuel order.
HOW CARBON OFFSETTING WORKS
Explaining how carbon neutrality can be achieved with nature-based solutions. 
 When carbon emissions cannot be avoided or reduced.
Compensated through investment in projects around the world.
These nature based solutions projects capture/reduce CO2 emissions that otherwise would not have occurred.  
Carbon credits are issued that can be retired to demonstrate that the carbon emissions created by using Shell GTL Fuel have been offset by investment in carbon reduction projects.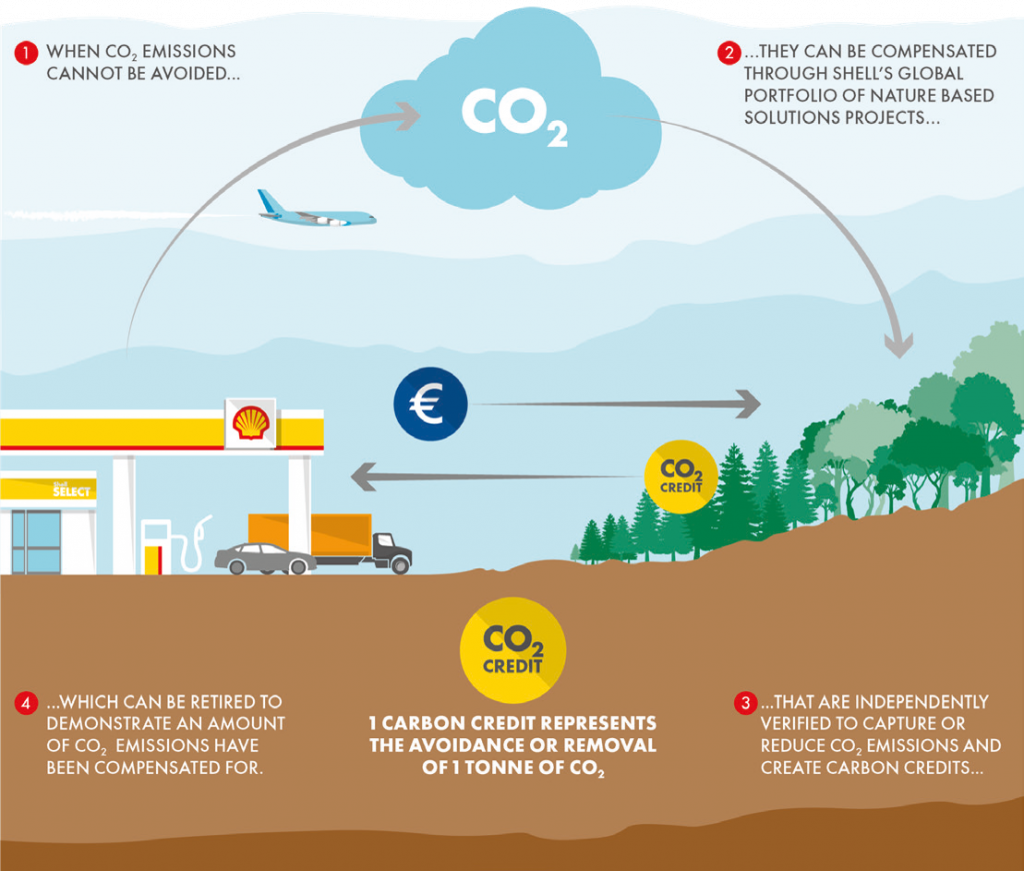 SUPPORTING ENVIRONMENTAL GOALS
FTVS fuels new business being clean and green
"Within our industry there is increasing commitment to the development of sustainable broadcasting operations. Shell GTL Fuel already plays an important role in minimising our local environmental impact, so when Certas Energy offered us the opportunity to become CO2 neutral via the Shell nature-based solutions scheme, it made perfect sense. It's fantastic to see industry heavyweight broadcasters coming onboard because of the sustainability credentials FTVS can offer."
Chris Pratt, Technical Director, FTVS
How can Certas Energy help your business to be cleaner and greener with your next fuel order of Shell GTL Fuel?
SHELL GTL FUEL WITH CARBON OFFSETS