Please be advised, earliest delivery dates are currently around 15 working days
smart-monitor-header-v2
Celebrate 2019 with 50% off Smart Monitors
Get smart this New Year with our Smart Monitor sale: now just £60!
Get smart this New Year for just £60 (usually £120)
Take control of your heating oil with a brand new Smart Monitor. With a host of smart features, you can control what you're spending, how much you're using, and precisely how much fuel is in your tank. Putting the power back in your hands, so you'll have peace of mind that you'll never run out of heating oil again.
Why do I need a Smart Monitor?
Peace of mind
With deliveries arranged automatically when your fuel level gets low, you'll never have to worry about running out of heating oil again.
Easy control
Wherever you are, you can use our handy mobile app to monitor your fuel levels and see how much heating oil you're using.
Cleverly connected
Your Smart Monitor will be attached to your existing tank, and talk to your WiFi router via a USB device. So it can provide daily updates straight to your personal online dashboard.
No nasty surprises
You don't need to constantly visit your tank to check your fuel level anymore, which means if there's a leak or theft, you'll know about it straight away.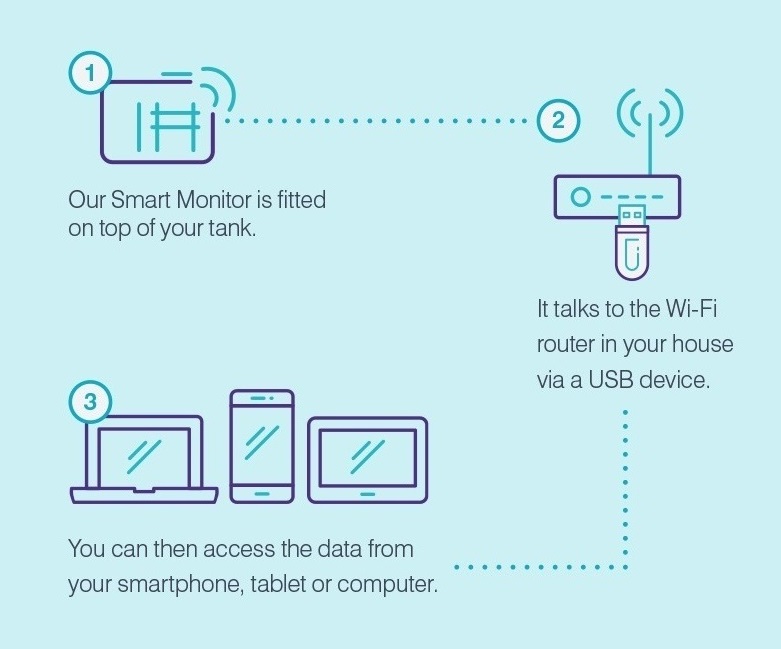 Like what you see?
Call today
0345 600 4040

*Click here for the Smart Monitor Terms and Conditions