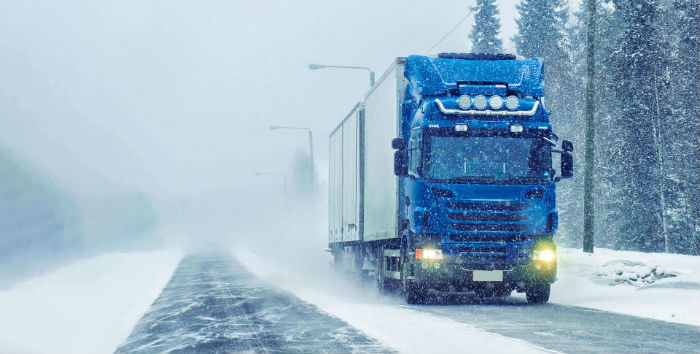 Winter is the busiest season in the haulage calendar, so it's vital that drivers keep to schedule in order to meet tight deadlines and avoid costly disruption. Yet when moving goods abroad in commercial vehicles, there are a number of additional regulations fleet managers must understand before sending their drivers out of the country.
To help your fleet stay on track this winter, here we outline just some of the European regulations to be aware of before transporting goods out of the UK this winter.
Skip the holiday blues and plan ahead
It may not be commonplace in the UK, but a number of European countries ban the driving of commercial vehicles during weekends or public holidays. With Christmas just around the corner, it is best to plan journeys ahead of time to avoid being caught out. Before setting off, contact the British Embassy in the territories your will be passing through for advice on when they will be able to operate their vehicle.
Get kitted up for winter
No matter where your drivers may be travelling, becoming stranded in harsh winter conditions can be a real possibility, so it's essential to create a survival kit for drivers in case emergency strikes.
Alongside the staples – a torch and spare batteries, a thick blanket, first aid kit, warm clothes, non-perishable food, a mobile phone and a charger – in many European countries it's compulsory to carry warning triangles, first aid kits, spare bulbs and reflective jackets in a vehicle. If your drivers will be passing through France, don't forget to store a breathalyser in the vehicle – it's a legal requirement.
Driving in winter can be challenging at the best of times – even in the UK – so it's important to take extra steps to ensure safer driving in hazardous winter conditions. In many European countries, it is mandatory to have winter tyres fitted to vehicles during the winter months or in certain weather conditions. These will give vehicles better road grip, improved handling and reduced stopping distance when driving in ice, black ice, snow and slush, or even just on wet roads.
As well as having winter tyres fitted, in many European countries it is compulsory to carry at least one pair of snow chains and a shovel. If drivers are caught without snow chains, they may be escorted to purchase them by the police, face heavy fines or even be denied entry at the border. 
Remember the essentials
When travelling across Europe in a goods vehicle, your driver will need to carry a number of official documents – most importantly, their passport. Not all countries have the same entry rules, so be sure to check that your driver's passport is valid for the period after entry as required by the country they are driving through. In addition to a passport, the Foreign Office advises drivers to hold the following vehicle documents when taking a HGV abroad:
a current HGV vehicle licence
a vehicle registration certificate (V5C) or plating / replating certificate as appropriate
an insurance certificate or cover note
a goods vehicle operator's licence identity disc
a community licence, permit for travel or cabotage documentation where relevant
an MOT, passenger service vehicle or goods vehicle test certificate if relevant
an appropriately displayed GB sticker or Euro-plates
Dependent on where they are hauling, drivers may also need to carry paperwork, payment cards or electronic devices for tolls or low emission zones.
In some countries, it's also mandatory to carry an international driving permit (IDP). Before you travel, check if your driver will need an IDP on your journey. If an IDP is required, be aware that it does not replace your driver's licence, and both a driving licence and the IDP must be on your driver's person all times.
Drivers must also comply with EU rules on driver hours and carry tachograph charts and any legally required manual records for the current day and the previous 28 calendar days, plus a digital smart card – if held.
Last but not least, drivers should carry their European Health Insurance Card and ensure they have comprehensive health and medical insurance before setting off on their route.
Fill up before you go
According to EU rules, there are no limits on the amount of fuel that may be carried between EU countries in standard running tanks – so long as the fuel stays in the tank at all times and isn't off-loaded.
For stress-free refuelling before leaving the country, advise your drivers to fill up with a Certas Energy Fuel Card at any one of our nationwide refuelling bunker sites. As well as offering a one pence per litre reduction at our bunker sites on all diesel purchases for Certas Energy fuel card customers, prices for AdBlue and gas oil are fixed at our sites – meaning you can avoid the impact of external market fluctuations. We also offer a range of facilities and services at a number of our sites to help keep drivers moving, including high-speed refuelling pumps, secure parking, hot food and accommodation.
Hauling goods during winter naturally comes with a number of regulatory requirements, but ultimately, the responsibility of complying with European rules lies with you and your drivers. For full government guidance on transporting goods abroad, visit https://www.gov.uk/transport-goods-from-uk-by-road