May2022
Kerosene
Keep your business moving with an assured supply of kerosene
from the UK's largest fuel distributor.
About
commercial
kerosene
Kerosene is a low viscosity oil that has a range of commercial uses. Also known as 28-second oil, paraffin or kero, this pale, yellow or clear fuel oil has a lower viscosity and lower freezing point than gas oil (red diesel). It also has a longer shelf-life, making it a reliable oil for many industries.
Kerosene is a versatile fuel that is popular in various industries and has a range of applications across agriculture and commercial sectors, as well as for domestic home use. The oil can be used to fuel jets, heat homes and business, as lighting oil and even as a cleaning agent.
WHY BUY COMMERCIAL KEROSENE FROM CERTAS ENERGY?
130 local depots across the UK
900 tankers delivering kerosene nationwide
Quality kerosene and premium kerosene from reputable refineries
Flexible payment options and credit terms
Competitive commercial kerosene pricing
Excellent customer service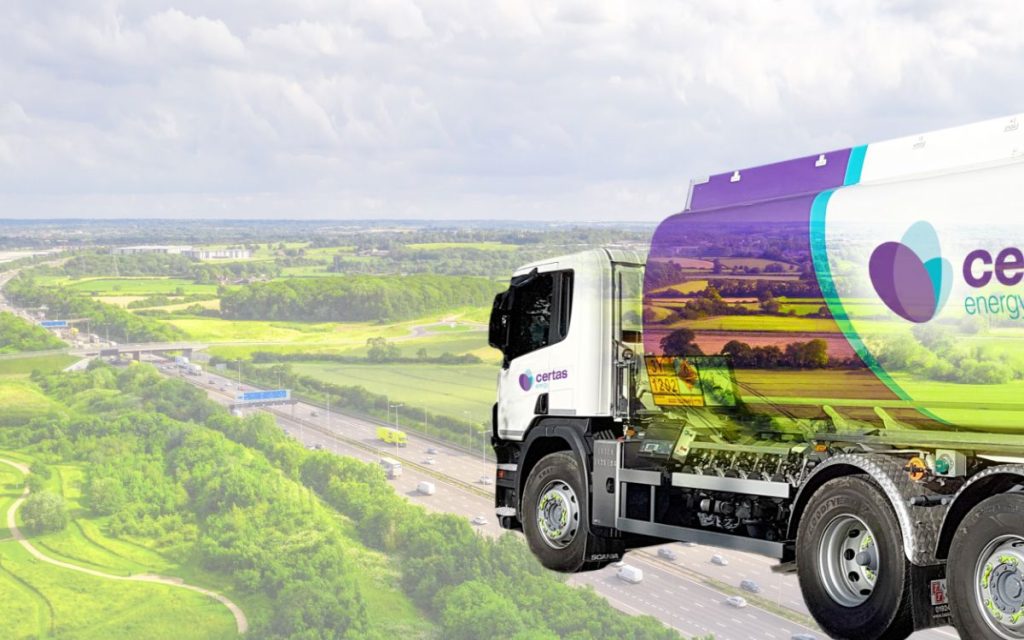 CONTACT OUR FUEL TEAM FOR COMMERCIAL KEROSENE
If you'd like to find out more about kerosene or want to get a price based on your business' requirements,
contact our fuel team today.
What is commercial kerosene?
Commercial Kerosene is a type of oil that has a thin viscosity and a density between 0.78-0.81 g/cm³ (gram per cubic centimetre). The oil is typically pale, yellow or clear in colour and usually contains a coloured dye to differentiate it from gas oil.
Kerosene is also known as paraffin, kero or 28-second oil. The name '28-second oil' is used as a reference to kerosene's viscosity based on a test of how long it takes 50ml of the oil to drip into a beaker.
Commercial kerosene has lots of uses, but is typically used to heat homes and business premises, to fuel jet engines or to power industrial machinery.
At Certas Energy, we understand the importance of sourcing high quality commercial kerosene for your business. Speak to a member of our team to find out how we can meet your business needs.

Find your local Certas Energy team with our handy locator map
MANAGE YOUR SUPPLY THIS WINTER
Top tips for winter operations
As the nights draw in, and we start seeing the first frosts of the year, businesses up and down the country are preparing for winter. From choosing the right heating oil to managing your supply during a cold snap, we've got expert advice to help you through the season.
FREQUENTLY ASKED QUESTIONS
What is premium kerosene?
Premium kerosene is an enhanced kerosene product that contains a number of additives to boost fuel performance, prolong shelf-life and improve fuel efficiency. As premium kerosene is cleaner burning and produces less soot than traditional kerosene, it can reduce costs for businesses in the long run by increasing windows between maintenance.
As a cleaner and greener fuel, premium kerosene reduces deposit build up within your engine or boiler, resulting in less breakdowns and maintenance costs. Whilst all fuel deteriorates over time, the additives in premium kerosene ensure it stays fresh and effective for longer. This makes premium kerosene a smart, more cost-effective choice.
FREQUENTLY ASKED QUESTIONS
What is kerosene used for?
Kerosene is a versatile fuel that has many commercial uses. It is typically used in machinery that can be exposed to cold temperatures, as regular fuel oil can gel during cold temperatures. Because it has a low viscosity, lower freezing point and lower flash point than gasoline, kerosene is the preferred fuel type in the aviation industry
Kerosene is widely used in the aviation industry to fuel engines. The fuel can power very small pieces of machinery all the way up to large engines. The versatile fuel can also be used as heating oil to heat business premises and homes. Kerosene also has uses outside of fuel and engine use. The fuel can be used as both a solvent that can dissolve other liquids and oils, such as chain grease, and as a lubricant to improve machinery efficiency, and even as a cooling agent in metal production and treatment. So, Kerosene fuel has many uses and applications.
FREQUENTLY ASKED QUESTIONS
Kerosene is usually significantly cheaper than gasoline, but more expensive than regular fuel. The price of kerosene changes daily due to influences from the global oil market and prices can also be impacted by order quantity and location. The best way to find out the current price of kerosene is to contact a reputable kerosene supplier for an up-to-date quote.
As a leading UK distributor of kerosene, Certas Energy is a reliable, reputable kerosene supplier that is trusted by 1,000s of businesses. With a fleet of over 900 tankers delivering oil nationwide and over 130 local depots across the UK, we are confident that we can meet your kerosene oil needs.
For more information on why the cost of kerosene fluctuates, check out our blog on kerosene prices or request a current kerosene price quote via the button below.
FREQUENTLY ASKED QUESTIONS
Kerosene is produced through a process called fractional distillation, which involves separating the compounds of crude oil. This process creates a clear and thin oil which is 0.82 g/cm³ in density. This clear and thin oil is Kerosene.
Kerosene is extracted from petroleum crude oil, which is an oil that naturally occurs underground. The oil is drilled out of the ground and then broken down through a high temperature distilling process that uses temperatures between 150 and 275°C. This process breaks the crude oil down into a number of different fuels, including petrol, fuel oil, butane, propane, lubricating oil and kerosene. The oil is then sold to trusted suppliers like Certas Energy, who can distribute the oil to their network of customers.
FREQUENTLY ASKED QUESTIONS
Can I buy kerosene in bulk?
Kerosene oil can be bought in bulk from reputable, trusted fuel suppliers. Fleet vehicles can deliver bulk fuel to your business or property in various oil tanker sizes, ranging from smaller 8000 litre tankers to large 36,000 litre tankers. Order volumes start at 500 litres. As with most oil purchases, the quantity of oil that you purchase has an impact on price – the more oil you buy, the cheaper your cost per litre.
As the UK's largest distributor of bulk fuels, Certas Energy has real kerosene buying power. With a varied supply base from a range of leading oil refineries, we're able to maintain consistently competitive bulk kerosene prices for our commercial customers.
FREQUENTLY ASKED QUESTIONS
Where can I buy kerosene?
Kerosene can be bought in small batches online for domestic use at online marketplaces. However, if you are looking for bulk orders of kerosene that are to be used for commercial purposes, then it is best to buy with a trusted, regulated oil supplier who can cater to your business needs.
Certas Energy provides an assured supply of quality kerosene and premium kerosene to businesses nationwide, with competitive prices, reliable deliveries and stand-out customer service. Call 0345 600 4040 to speak with your local Certas Energy team or get a kerosene quote online.