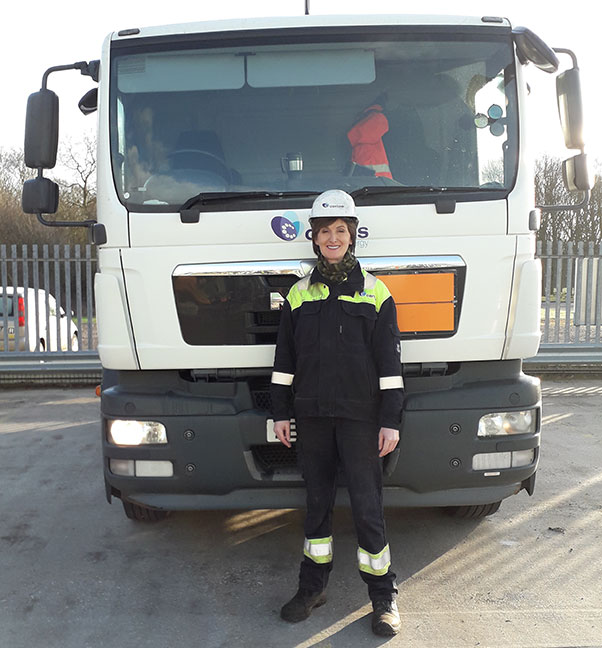 Joanna Bramley is one of only three female tanker drivers at Certas Energy. This is a number we would love to improve on. Find out what Joanna enjoys about working in this male dominated role and her advice to any aspiring female tanker drivers.

"Having worked as a crane driver in the building industry for many years, I wanted to take on a new and rewarding challenge and had been interested in becoming a tanker driver for quite some time.

I enjoy being active and well occupied throughout the day as well as being able to work on my own initiative. I also really enjoy meeting with our customers and getting along well with my coworkers.

I begin each day by carrying out a daily inspection of my vehicle and load the required products I need for the day ahead. I visit various sites both domestic and commercial and the role involves making safe and compliant deliveries in line with customer requirements
Being valued for productivity, not gender
It's true that I am very much surrounded by men in this industry and at first I felt like I needed to prove myself but in time, I learnt that I am part of a team who can rely on one another when in need of assistance. I think gender aside, it is more important that you are doing the job properly and are seen as good at what you do by your peers and customers alike.

If I'm honest, I don't feel anyone in the team is treating me any differently in my job role because I am transgender female. Everyone has been respectful as well as being helpful and supportive with me starting out as a tanker driver in my career at Certas.

From the start, I wanted to be immediately effective in this role. As such, I made it my goal to gain a rapid understanding of the job role and challenges faced in it. I have encountered blind spots along the way but have accepted that as part of the learning process.
Step out of the norm
To any woman considering a career as a tanker driver with Certas Energy, I would say don't be afraid to step out of the norm.
Once you are in the job and behind the wheel remain calm under pressure and plan each day ahead. If you can handle the early starts, working in all weather conditions as well as long driving hours, then yes go for it".