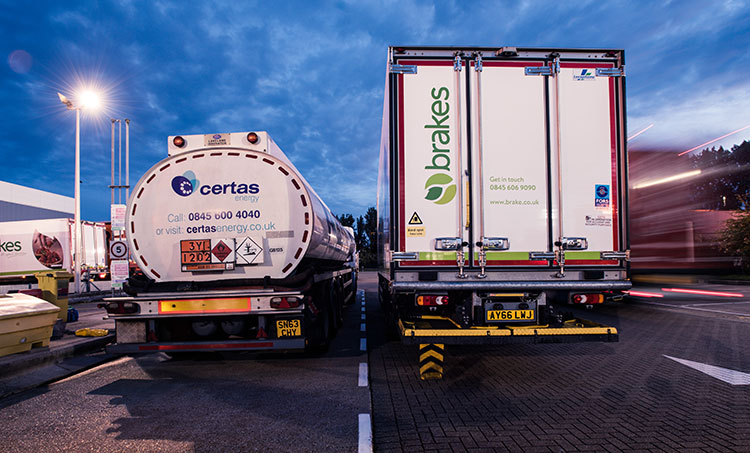 Independent third party testing has revealed that Brakes Group has achieved a 47% reduction in emissions of nitrogen oxide (NOx) following a nine month trial.
A cleaner burning alternative to diesel, GTL Fuel is supplied by Certas Energy. The first delivery of 70,000 litres of GTL Fuel to Brakes Group was made last October to depot in Park Royal, London. The fuel was trialled in the Brakes Group's fleet of 50 DAF New LF 230 fridge trucks in a bid to reduce emission levels while operating in the capital. DAF Trucks' entire range of New LF, New CF and New XF vehicles, powered by the PACCAR PX and MX family of engines, is certified for use of GTL fuels.
The 47% reduction in NOx was confirmed in independent, third party tests by analysts at Millbrook vehicle testing facility. As well as contributing to a major reduction in emissions of air pollutants compared to regular diesel, Brakes Group has reported that the use of GTL Fuel has led to quieter running levels and odour-free refuelling at the pump. Additionally, GTL Fuel has virtually eliminated the requirement for periodic static regeneration of the Diesel Particulate Filter (DPF) in trial vehicles, an important benefit for Brakes Group's city centre operations.
"Working alongside our key partners in this initiative – DAF Trucks UK and Certas Energy – we have funded our own analysis at Millbrook to measure the benefits of running on GTL Fuel. The evidence," said Steve Webster, Brakes' Head of Indirect Goods & Services Procurement, "has come back clearly showing that running GTL Fuel in a city centre has a big impact on NOX emissions – indeed, our own test saw a 47% reduction compared to running on diesel.
"We have not waited for future technology either as there is no requirement to convert the vehicle. GTL Fuel is available to use straight away in all diesel engines," added Webster, "although operators may wish to confirm with their dealer that the fuel is approved for their vehicle warranty."
"We're very pleased with these in-service results," said DAF Trucks Marketing Manager, Phil Moon, "Heavy-duty Euro VI compliant diesel engines emit very low levels of NOX and particulates, and by operating on clean-burning GTL Fuel, combustion is cleaner and emissions are further reduced. The engine and its exhaust after-treatment system can spend more time operating in their more efficient modes," he said, "potentially delivering improved fuel economy.
"If the improvements are significant – as clearly demonstrated by Brakes – we expect other operators to move to GTL and HVO to take advantage of the benefits."
GTL Fuel is a cleaner burning alternative to diesel that can be used as a drop-in solution to help reduce local emissions of regulated pollutants including particulate matter, NOx, carbon monoxide and hydrocarbons immediately. As a drop-in fuel, GTL Fuel can be used immediately without the need for engine modifications or changes to existing infrastructure.
Alternative fuels are a readily-available, proven way to make an immediate impact on levels of local air pollutants, and it's great to see the enthusiasm with which leading companies such as Brakes Group and DAF have adopted GTL Fuel to improve air quality in the capital.
Certas Energy is inviting transport and haulage businesses to complete a short survey to better understand the role they think alternative fuels have to play in efforts to reduce emissions. Entries will be entered into a prize draw to win a £50 Amazon gift card and you can take part in the survey by clicking here.
To find out more about how GTL Fuel can reduce emissions for your transport business, visit https://www.certasenergy.co.uk/haulage-and-transport