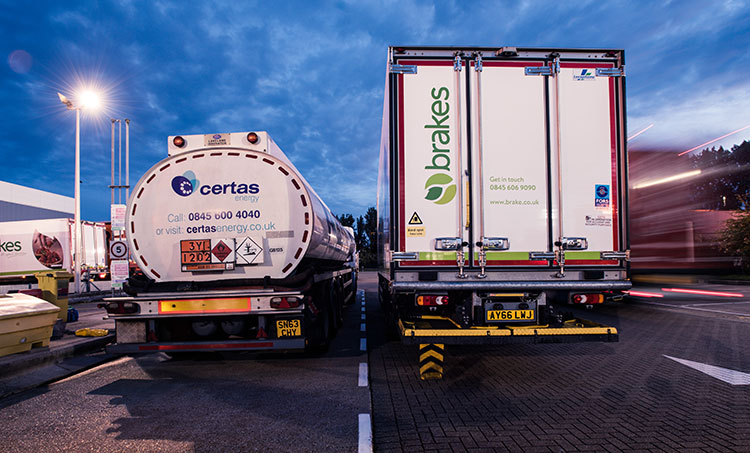 We're delighted to be shortlisted alongside Brakes UK and DAF in the Vehicle Fleet Air Quality Initiative of the Year category of this year's National Air Quality Awards.
The National Air Quality Awards celebrate the successes of the public and private sectors in driving down air pollution and improving air quality. The Vehicle Fleet Air Quality Initiative of the Year award recognises freight or logistics organisations that can demonstrate a successful campaign to reduce emissions across its fleet.
In October 2017, Brakes UK became the first major business in London to switch vehicles from diesel to cleaner burning GTL Fuel from Certas Energy to reduce harmful emissions and improve local air quality. Following a nine month trial of the fuel in DAF vehicles operating from their Park Royal depot in West London, independent testing showed that Brakes UK achieved a 47% reduction in emissions of nitrogen oxide (NOx).
Steve Webster, Head of Indirect Goods & Services Procurement at Brakes UK commented: "As the leading foodservice wholesaler in the UK, we take our social and environmental responsibilities very seriously. Switching to GTL Fuel with support from our key partners DAF and Certas Energy has allowed us to make our deliveries in London cleaner, safer and healthier. We're pleased that our commitment to lowering emissions has been recognised by the Air Quality Awards judging panel and are excited to be shortlisted for this prestigious award. "
As the exclusive supplier of GTL Fuel in the UK, Certas Energy is pioneering its use as a readily available, cleaner burning alternative to diesel that can be used as a drop-in solution to help reduce local emissions of regulated pollutants including particulate matter, nitrogen oxide, carbon monoxide and hydrocarbons immediately.
Winners will be announced at the National Air Quality Awards ceremony on October 4th 2018.
You can find out more about how Certas Energy supported Brakes UK in reducing levels of harmful emissions in our case study, or click here to learn more about how GTL Fuel can help improve air quality.