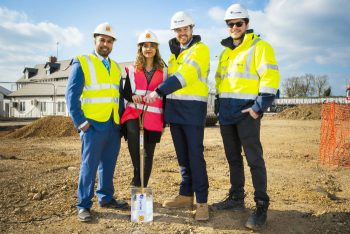 Certas Energy, the UK's leading independent distributor of fuels and lubricants, hosted a groundbreaking ceremony for a new HGV refuelling bunker site in the heart of the 'Golden Triangle' of logistics in Northamptonshire. The new site will be located just 400m from the M1 at Junction 16 and promises to be a significant addition to the UK's strategic road and refuelling network.
Featuring a canopy cover design and eight high-speed refuelling pumps – each of which dispenses fuel at a speed of up to 120 litres per minute – the site will be able to deal with a high volume of customers.
The HGV refuelling bunker will be located alongside the existing Red Lion Truck Stop, which has been operating for more than 30 years and provides high-quality food and drink, a friendly atmosphere, unrivalled customer service, premier security and a shower block specifically for drivers. 
The project's groundbreaking ceremony was presided over by Red Lion Director, Zarfeen Jetha and marked the project's first day of construction. Representatives from the Certas Energy Fuel Cards team were also on hand to celebrate the beginning of the project's construction. 
On the groundbreaking, Jetha commented: "I'm confident that the addition of the Certas Energy high-speed HGV refuelling facility will prove to be an invaluable addition to our existing offering. This promises to be both an exciting and rewarding project for both The Red Lion and Certas Energy.
Andrew Goodwin, National Bunker Manager for Certas Energy, said: "The groundbreaking ceremony represents a significant step towards the completion of our Red Lion bunker refuelling site, so we're obviously eager to begin.
"The 'Golden Triangle' is a key strategic location, so we're delighted to begin the construction process. We believe that by partnering with an established and popular truckstop, such as The Red Lion, we have a platform to deliver a 'one-stop' destination for drivers and hauliers.
"The Red Lion site is the latest in a number of recent developments that have included the opening of HGV bunker refuelling sites at both the Holyhead Port and Ecclefechan." 
For more information about Certas Energy and the network of bunkering facilities in the UK, please visit www.certasenergy.co.uk/fuel-cards-and-bunker-sites.