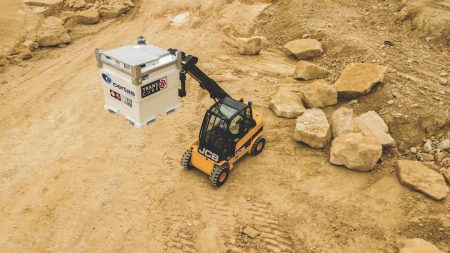 When it comes to flexibility in fuel storage and supply on construction sites, few solutions offer the versatility of transportable fuel cubes. A combination of innovative product design and the latest monitoring technology means that fuel cubes can help save businesses time, improve site safety and extend operational time of plant machinery.


Saving time with accessible onsite fuelling
Valuable time can be wasted when working on vast sites with huge numbers of vehicles and machinery, especially if operators need to travel significant distances to refuel. Fuel cubes are fully portable by crane or forklift to enable easier access for workers and more efficient refuelling.

Many fuel cubes support multiple dispensing capability, which can save sites time by enabling operatives to fuel a generator while simultaneously filling plant machinery – keeping equipment running for longer and removing the need for multiple bowsers to refuel and keeping machinery powered up for longer.


Maximising site space
The manoeuvrability of transportable fuel cubes offers key advantages for businesses operating on sites where space is at a premium or where there is limited access. Many fuel cubes are designed to be lifted by crane for precise positioning or stacking. If site storage space is limited, stacking up to three fuel cubes allows for greater supply capacity without compromising operations. 

Lifting transportable fuel cubes with cranes allows for greater security of a site's fuel supply. According to a recent survey from the Chartered Institute of Building, over 21% of construction businesses are victims of theft on a weekly basis. Secure, lockable storage from transportable fuel cubes is another way that businesses can secure one of their most valuable assets – helping to keep fuel out of thieves' reach while a site is closed. 


Safety first
Transportable fuel cubes also support improved site safety. Internal baffles help to maximise stability when handling or transporting a filled cube, and feature locks and secure storage for ports and equipment for added reassurance when moving or storing fuel.

Tanks used on construction sites must be bunded (double-walled) to help protect the surrounding environment and prevent spills. All transportable fuel cubes feature built-in, weatherproof secondary containment that eliminates the need for drip trays by containing drops of fuel from equipment and ports, helping to give operators peace of mind when refuelling machinery. When access to the inner tank is required, an inbuilt manway allows routine maintenance and inspection to be performed easily.

Fuel storage doesn't have to be stressful. All transportable fuel cubes supplied by Certas Energy meet UN design standards and are compliant with oil storage regulations. To discover how our range of fuel storage solutions can help keep your construction site moving, download our brochure here – https://www.certasenergy.co.uk/construction