Hydrotreated Vegetable Oil (HVO) is making waves as a popular renewable fuel choice in commercial applications, given its strong sustainability credentials and seamless engine integration – but not all HVO is created equal and knowing where to buy HVO is vital.
From unethical sourcing to unverified feedstock, there can be potential pitfalls to HVO if you don't carry out due diligence when choosing a supplier. If you are thinking about HVO adoption, it is imperative to seek a transparent and trusted provider who can give full visibility of the fuel's supply chain. This way, you can ensure your sustainability objectives are being met and be confident about your carbon reduction claims.
Ready for some HVO fuel for thought?
Emma Jayne Brown, Certas Energy's Head of Marketing Energy Transition, delves a little deeper…
Derived from sustainable vegetable fat and oil waste, HVO is a 100% biodegradable renewable diesel (DERV) that meets EN15940 standard for paraffinic fuels.   
Unlike conventional diesel production, hydrogen is used to remove oxygen from the oil molecules and split them into smaller chains, making combustion easier and cleaner. The FAME and fossil-free fuel can be used as a direct drop-in replacement for diesel, without the need for machinery or engine modifications. It also delivers impressive and immediate results – cutting up to 90 per cent of greenhouse gas emissions in an instant – helping businesses lower their carbon footprint, without delay. HVO offers a longer shelf life, excellent low-temperature performance, higher filterability and improved combustion over some diesel alternatives. To top it off, HVO fuel is fully interchangeable with traditional diesel and can be mixed in any ratio, offering significant flexibility and allowing for a gradual, frictionless transition.
These properties combined make HVO an ideal choice for businesses that want to realise significant carbon reduction without compromising productivity or incurring capital investment costs. 
Being clear on the challenges
With so much to gain, it is easy to see why many businesses are keen to adopt HVO and kick-start their journey to lower emissions.
However, sustainability credentials can be variable from supplier to supplier.
A number of factors can determine the ethical and ecological impact of HVO sourcing, from geo-politics and deforestation to land use and type of feedstock. It is also important to be aware that the level of greenhouse gas emissions savings can vary by product, as they do not come entirely from tailpipe emissions. Savings are based on a life-cycle, well-to-wheel calculation, taking into account feedstock, production processes and transportation. Businesses need visibility of the fuel's upstream supply chain – so that they can substantiate their downstream sustainability claims.
When it comes to partnering with a supplier, there are some key considerations for businesses.
It is imperative to seek out a HVO fuel supplier that is International Sustainability & Carbon Certification (ISCC) certified. Progressive suppliers may be members of the Zemo Partnership and share credentials and certifications via the network, such as becoming a Recognised Fuel Supplier under Zemo's Renewable Fuels Assurance Scheme (RFAS). The Zemo Partnership is a not-for-profit, independent partnership, jointly funded by government and members, with a shared vision of accelerating transport to zero emissions.
Any reputable supplier should be able to demonstrate a fully validated and auditable supply chain, including presentation of a Proof of Sustainability certificate. As a Recognised Fuel Supplier, Certas Energy can provide its own Proof of Sustainability certificate, underwritten by Zemo, which guarantees that businesses are purchasing bulk supplies of sustainable low carbon fuels. Furthermore, our fuel's credentials are audited by the Department for Transport (DfT) to ensure sustainability and product integrity are certified. As the level of GHG reduction can differ, it is important to check what emissions savings can be achieved through the product – a minimum of 80 per cent is recommended. Finally, it is important to ensure that your partner can provide a reliable and competitive supply of HVO, to limit any disruption to business operations.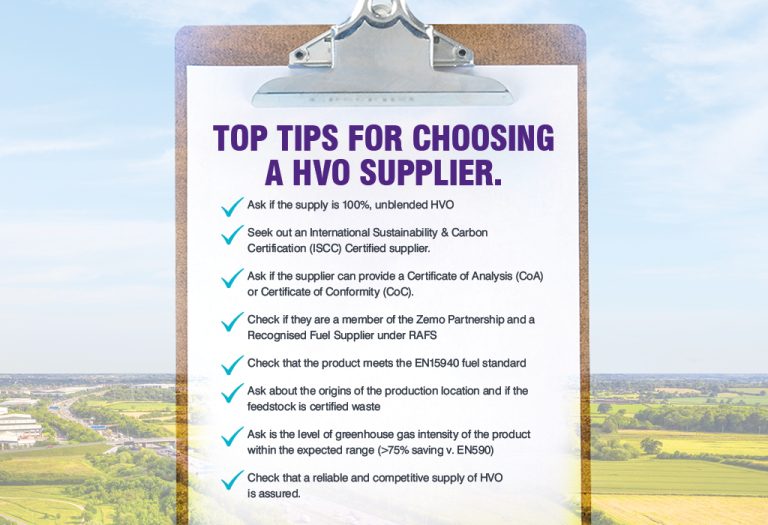 At Certas Energy, we believe in the power of transparency. That's why we are leading the way and introducing HVO to our own fleet of delivery trucks. A recent HVO trial at two of our depots saw us cut 6,433 tonnes of CO₂ after just two years. This move helped us to achieve a 24% Scope 1 emissions reduction in FY22 – surpassing our 2025 target of 20%, three years ahead of time. With such positive results from a small trial area and in a short time frame, we're excited to be rolling out HVO across our extensive delivery network. We forecast that more than 4 million litres of renewable HVO will be used annually up until 2025 – with further HVO expansion in the pipeline. This unprecedented move underlines our confidence in HVO as a robust and resilient fuel for the future and our commitment to delivering its benefits to the wider business community.
Fuelling the future of your business
Certas Energy HVO is ethically sourced, ecologically responsible, and exclusively manufactured from primary waste sources. We only partner with ISCC certified HVO suppliers, each one having a fully validated and auditable supply chain, so our HVO meets the highest auditable product standards possible. 
Interested in integrating HVO into your energy mix? Get in touch with our experts and begin your lower emissions transition today.