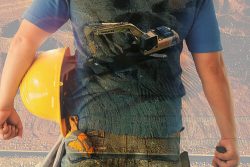 As regulatory changes and the increasing pace of energy innovation converge with constant budget pressures, businesses must weigh up which fuels are the best choice to invest in, while also managing their fuel supply. Fortunately, there are tools and support now readily available that can ease this complex process.
For in-depth data within 48 hours of installation, telemetry systems offer a smart monitoring tool for fuel tanks, offering complete visibility of fuel usage and supply. If your business relies on liquid fuel, here are six reasons why a telemetry system is a 'must have':
1. Steady, reliable fuel supply
A telemetry system can be fitted wirelessly to your bulk fuel storage tanks, enabling remote fuel monitoring across sites and providing real-time 'always-on' reporting. This offers visibility of when stocks are running low so you can re-order fuel before it runs out, in just a few simple clicks.
2. Increased visibility and traceability
Users can also compare stock levels of fuel, lubricants, waste oil and more, across multiple tanks. This helps to show which items are running low, but also where there may be an imbalance – for example, a surplus of road diesel compared to a shortage of AdBlue.
3. Digital dashboard convenience
A telemetry system like
FuelWise
from Certas Energy is managed through an easy-to-navigate digital dashboard accessed by smartphone, laptop or tablet. The digital dashboard displays an overview of liquid levels in every tank across the site and allows you to order fuel directly at any time. Five tanks can be remotely managed with the FuelWise mobile app, providing convenience and flexibility for busy fleet and site managers.

4. Real-time peace of mind
With the right telemetry system, any unusual fuel usage automatically triggers an alert, as a sudden drop in levels may indicate theft or a leak. As soon as this is detected, an alert is pushed through to every registered device, which could make all the difference for recouping losses whilst the issue is investigated.
5. Reduced risk for people and the environment
Telemetry systems avoid the need for working at height when checking fuel levels in bulk storage tanks, reducing the risk of workplace accidents and injuries while also saving time and improving efficiency. The risk of overfilling is also eliminated, as there is no guesswork involved. This not only eliminates environmental risk, but also supports efficient fuel delivery.

6. Ensure compliance, easily
Telemetry eases the process of measuring energy consumption and calculating emissions on-site, through convenient access to precise data. This is essential for compliance with the government's CRC (Carbon Reduction Commitment) Energy Efficiency Scheme, which aims to incentivise energy efficiency for UK businesses. Organisations that meet the qualification criteria are required by law to buy allowances for every tonne of carbon they emit. Data from a telemetry system is ideal for feeding into the Department of Energy & Climate Change (DECC) 2050 Calculator. This calculator enables companies to evaluate models or roadmaps they can consider for reaching net-zero carbon emissions by 2050.
The roadmap to reaching this target is becoming clearer, and innovative fuel technology like telemetry as well as cleaner burning solutions and regulatory changes will each play a part in achieving this. For businesses, now is an ideal time to get serious about fuel efficiency by leveraging the power of telemetry data.
Find out more about how FuelWise telemetry from Certas Energy can save you time and money: download the brochure