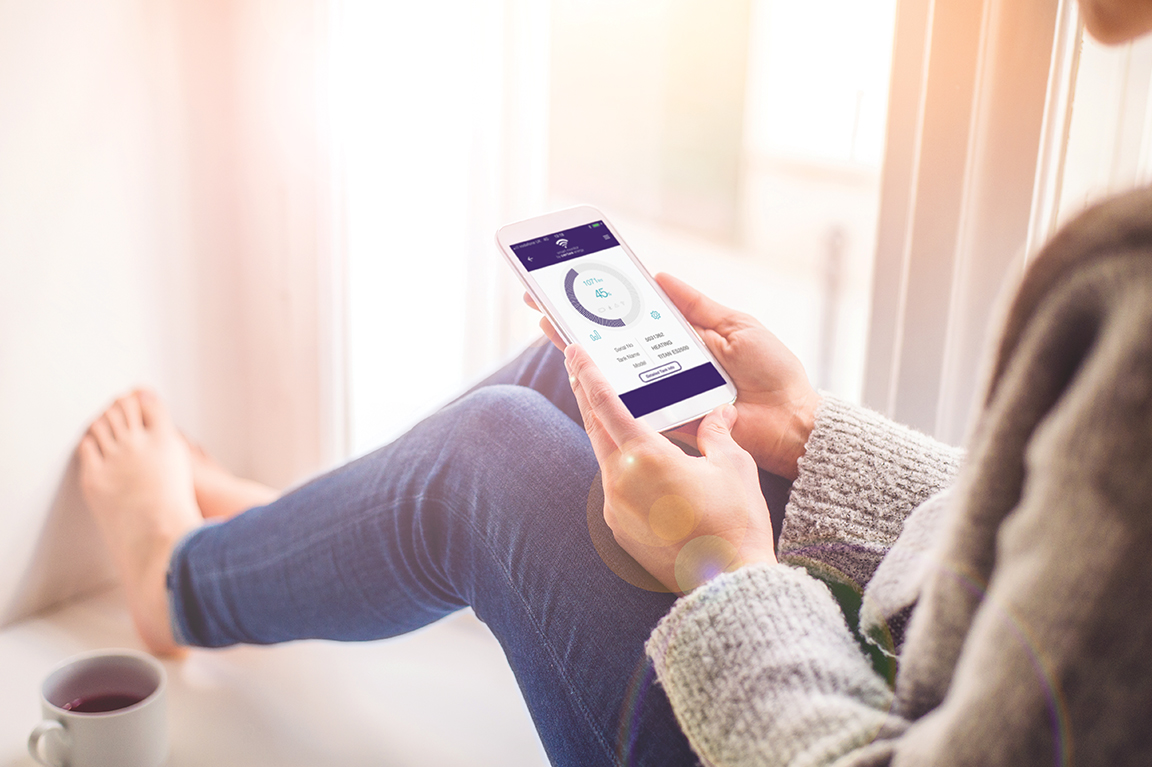 Smart Oil Tank Gauge Benefits
Particularly in the colder months, managing your heating oil usage manually can be difficult and strenuous. Often, this can lead to a shortage of fuel, or completely running out at a time when you need it most. However, with a Smart Monitor, all of these problems can be eliminated.
This clever piece of equipment has many everyday benefits to modernize the way in which you handle your heating oil – and to make your life easier. Keep reading to find out the top seven advantages to installing a Smart Monitor.
What is a smart oil tank gauge?
As a heating oil customer you may be used to using an oil tank gauge to find out how much oil you have used and when you need a top up. These wireless devices attach to your oil tank and send a signal to the receiver in your home showing the level of oil left in the tank. Oil tank gauges are easily installed and simple to use, offering a basic insight into your overall heating oil usage. 
A smart oil tank gauge, or monitor, is an advanced device that syncs up with an app and gives complete visibility of your oil usage, when you need to place an order and how much you have spent. It is compatible with any device, such as a laptop, tablet or smartphone. Your smart monitor can even organise automatic top ups. There's a host of reasons why using a smart oil tank gauge makes life easier; read on to find out more.
1. Never Run Out Of Heating Oil
Many traditional heating oil tank gauges involve using a dipstick which must be inserted into the tank to check the level. Not only do you need to remember to do this, but you may find yourself freezing in the middle of winter trying to get a reading. With a smart oil monitor, you will be immediately notified when levels are getting low so you can place a new heating oil order right away. No more standing in the cold or forgetting to check.
To save the hassle of arranging the delivery, the Smart Monitor can organise your top-ups for you. Using the oil level tracking and judging from the rate in which it is being used, the device can assess when your heating oil is running low and arrange your order for the most effective time. Should you prefer to order manually, for instance you like to top up in summer when prices are lower, this feature can easily be turned off.
Using a manual gauge often means tracking heating oil bills through spreadsheets or not at all. Meaning costs can spiral. Amongst its many features, the smart oil gauge can show you a complete overview of what you are spending in comparison to your usage, helping you to keep a tighter grip on your finances. Want to see the impact of turning your thermostat down every day? Simple graphs and charts can show you how small changes affect your heating oil costs.
Keeping your fuel healthy is another great way to avoid unnecessary costs: click here to find out more.
You can keep an eye on your heating oil bills anywhere in the world with a smart oil gauge. Wireless tank gauges still require you to be home, and can only be transmitted up to 200 metres. As the smart monitor app can be accessed on your phone, you can check if you need any heating oil whilst you're still on your holiday!
5. Use On Multiple Devices
The Smart Monitor can connect and send alerts to a PC, mobile or laptop. Not only can you access the information from home or work but anyone you live with can take responsibility for it too. The smart monitor also connects to Alexa, making it even easier to find out when your next heating oil order is due.
Unfortunately leaks and thefts do occur. As a heating oil customer you want to be sure you're protected from the worst happening. A manual oil tank gauge relies on you checking the levels. With the smart oil monitor and app, you receive notifications as soon as there is an unexpected drop in the oil level. You can take action immediately no matter where you are.
7. Set Up Is Simple And Affordable
Perhaps the biggest assumption is that a standard oil tank gauge is much easier to set up than a smart monitor. Actually, setting up your Smart Monitor couldn't be simpler. Everything you need is sent to you in the post – a Smart Monitor, a plug-in dongle and simple instructions. If you don't feel comfortable setting up the device yourself, one of our trained installation specialists will be happy to pay you a visit to help.
After purchasing the product, there is only a small fee of £1.25 per week to use the service and manage your heating oil usage.
Click here to find out more and order your Smart Monitor today.
8. Reliable Heating Oil Deliveries
However you choose to monitor your heating oil usage, Certas Energy can deliver to your door all year round. With bulk deliveries and a 900 strong fleet, you needn't worry about warming your home. Our smart oil monitor is another way we make our customer's lives easier and ensure you receive on-time, reliable deliveries no matter where you are.