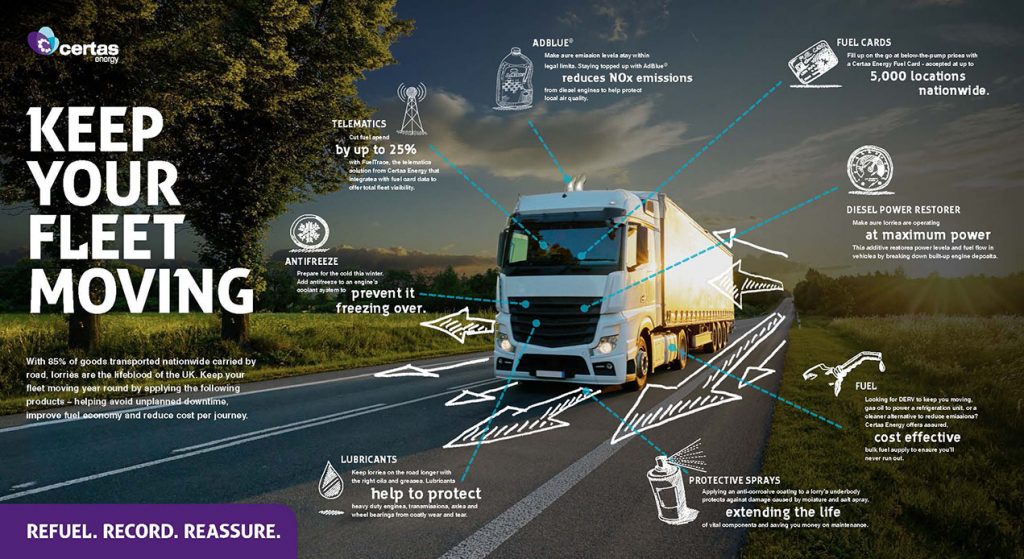 If you operate a fleet or own an HGV, there's no escaping maintenance. Accounting for around 10% of a fleet's total operating costs, maintenance plays an essential role in either increasing or reducing a vehicle's total cost per mile. And it's not only the cost of parts and labour that can have an impact – a lorry in the garage can clock up hours or days in lost productivity.
With a 900-strong fleet on the road, we know how much maintenance matters when it comes to vehicle availability and productivity. But there are certain products that can help to extend windows between maintenance periods, prolong the life of HGV components and reduce your lorry's overall total cost per mile. So, next time your lorry pulls into the garage, follow these tips to keep it on the road for longer.
Lubricants and greases are key to protecting engines, axles and transmissions from wear and tear. However, a recent survey from Shell revealed that only 52% of fleet managers consider lubricant product performance a consideration, and 56% do not expect higher quality lubricants to help cut maintenance costs .
While premium lubricants may seem more expensive upfront, the cost of choosing a lower quality lubricant in the long term can dwarf any short-term savings due to accelerated degradation of equipment. Higher quality lubricants offer extended oil drain intervals, improved fuel economy and enhanced protection against wear, deposits and corrosion – helping to minimise vehicle downtime and maintenance costs.
And it's not just choosing the right lubricant that can make a difference to total cost per mile. Storing, handling and applying a lubricant correctly can also deliver added value from improved productivity and reduction in product consumption.
Ain't Nothing But The Blues
When your lorry rolls into the garage, be sure to check that AdBlue® levels are topped up. This exhaust fluid is an operational requirement for all vehicles with a selective catalytic reduction (SCR) system to remain compliant with legal emissions levels. AdBlue reduces a vehicle's NOx emissions by breaking the gas down into harmless nitrogen and water.
While running out of AdBlue will not shut down a lorry's engine mid-operation, it may cause the vehicle to automatically limit performance in order to stay within emissions limits. Some engines will not start on an empty AdBlue tank, so make sure that there's an emergency supply onboard or in the garage – just in case.
If the AdBlue warning light comes on while you or your drivers are on the road, there's help at hand. Each one of our 20 strategically placed HGV refuelling bunkers dispenses AdBlue as well as DERV and gas oil – so you can fill up on the go. As an added bonus, prices AdBlue prices are fixed at our HGV refuelling bunkers – meaning you don't have to worry about the cost of external market fluctuations.
This survey, commissioned by Shell Lubricants and conducted by independent research firm Edelman Intelligence, polled 395 decision makers in the Fleet sector in 8 countries (Brazil, Canada, China, Germany, India, Russia, UK, US) from November to December 2015.
Come rain or shine, ice or wind, it's likely your lorry will be driving through the extremes of the weather spectrum throughout the year. In these conditions, vehicle components are exposed to moisture, salt spray or even harsh corrosives – all of which can eat away at parts over time and lead to a hefty maintenance bill.
Applying anti-corrosive sprays or coatings to vulnerable metal surfaces on your lorry helps them to resist the harmful effects of corrosion. These products work by forming an active, polar binded film that acts as a preventative barrier to protect parts from rust – so you can keep your lorry in tip-top condition for longer.
Is your engine management light on? Is your engine misfiring at idle? Are you losing power, or even seeing power surges? Chances are your lorry is suffering from a build-up of internal diesel injector deposits.
Diesel fuel injector technology keeps lorries running at peak performance and helps to reduce emissions, but can be vulnerable to a build-up of deposits over time. These deposits – often very thin layers of lacquer or metal salts – can become stuck to vitally important engine parts and restrict fuel flow, leading to the symptoms described above.
Luckily, a single dose of Diesel Power Restorer can break down these deposits quickly to restore fuel flow and engine power. 200ml of additive treats 100 litres of fuel, and should be added to a running engine during maintenance for best results.
We know how important it is to keep fleets performing profitably, safely and reliably. That's why our team of specialists is here to help you get the most out of your lorries. To find out more about how our bespoke fuel supply and management solutions can deliver added value to your business.