Get the Best Deal for Your Home
Why do heating oil prices fluctuate?
Heating oil prices are known to be very volatile, varying across the UK. Numerous factors such as the weather and supply and demand influence daily fuel price trends. We know that homeowners want the best prices for heating oil, so we have created this guide to give you all the information you need.

Weather impacts supply and demand of heating oil
The weather can have a huge impact on domestic heating oil prices in the UK, as the oil industry works through supply and demand.  So, in the colder months, when more homes are turning up their heating, the demand for oil is higher. Therefore, heating oil prices are always higher when the weather is cold.
But this doesn't mean that you can't get a good deal on your heating oil. As one of the UK's leading heating oil suppliers, we advise our customers to take advantage of cheaper heating oil prices during the warmer months. By topping up your oil stock in the summer, you can keep the cost down throughout the year.
Delivery costs depend on the amount of oil you order
The amount of oil you purchase can also impact the price. Buying in bulk can reduce delivery costs, as drivers have to make fewer trips to deliver your order. However, remember that a heating oil tank should only be filled up to around 80-90% of its capacity to avoid spillage.
If you have a smaller tank but would like to take advantage of bulk discounts, you could form or join a heating oil club. These are free groups of homeowners that join together to bulk buy their oil and save money on their order. Speak to your neighbours and local community to get involved.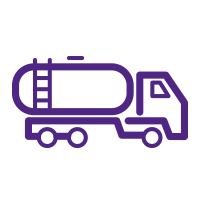 Location plays a part in heating oil prices
Location is also a factor that can affect heating oil prices, particularly if the location is difficult to get to or it receives fewer orders. However, we have an extensive and reliable delivery network that comprises more than 130 depots, over 900 tankers and 2,300 employees. So, you can be assured Certas Energy will be able to cater to your heating needs wherever you are.
How can I get the best price for heating oil?
Certas Energy is the UK's number 1 heating oil supplier for a reason. We provide top-quality products to help heat your home at competitive prices you can trust.
Simply fill in our online form for a quick quote – it only takes a few minutes.
Thanks to the internet, it's easy to compare domestic heating oil prices online, but did you know you can also get a great quote over the phone? At Certas Energy, we like to offer a personal touch and pride ourselves in our friendly customer service. Call us on 0345 600 4040.
Flexible payment option: Spread the cost of your heating oil
At Certas Energy, we like to make things as easy as possible for our customers. Whilst many of our customers like to pay the cost of their heating oil upfront for the season, we understand that this option might not suit everyone. That's why we've introduced a direct debit programme to help you spread the cost of heating your home throughout the year.
Find out more information on paying for your heating oil by direct debit.
How much is VAT on heating oil?
Domestic heating oil is subject to a reduced VAT rate of 5% in the UK. For most other types of fuel, including diesel and petrol, the VAT is 20%.
Other ways to save on your heating oil bill
Keeping an eye on your heating oil usage and taking care of your boiler can save you money in the long run. That's why Certas Energy offers a selection of options to help your money go further and to make your heating oil last longer.

Annual boiler servicing can reduce expensive repair costs
A happy, healthy boiler is less likely to suffer an expensive breakdown. New oil boiler installations can cost around £2,500 – £4,500, depending on the size, quality and model. So, investing in boiler care is a good way to make sure you avoid any unexpected costs.
Our Boiler Care service is like an MOT for your boiler; we check everything is running as it should be, to keep you and your family cosy all year round.

Certas customers receive discounts on family days out, shopping & more
Save up to 40% on cinema tickets, gadgets, groceries and more with Certas Energy Extras. We've partnered with top brands including Tesco, Boots and Curry's PC World to help you save money on everyday items and bigger treats. It's our way of saying thanks to our loyal customers.
Get high street offers and discounts just for you, plus access to special online resources.