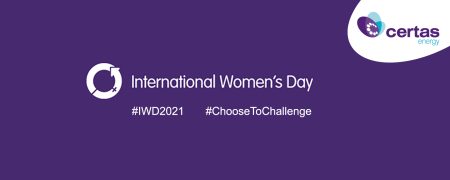 International Women's Day 2021
This year marks the start of Certas Energy establishing their Inclusion and Diversity (I&D) forum with colleague champions who are passionate about making a difference and who each come with their own diverse background and experiences. Our ambition is to establish an Open and Honest culture where all feel equally welcome.
As a business, we are proud that we have a solid representation of women leading from the top. However, it is clear from our I&D meetings that while there is much to celebrate, there is still much more we can do.
March 8th is International Women's Day. This is a day for provoking important conversations on gender equality in business as well as in society. The theme this year is #ChooseToChallenge, reinforcing the message that we can all choose to challenge and call out gender bias and inequality.
Supporting awareness days opens conversations. To encourage conversations and to challenge our own thinking, we are encouraging our colleagues to pause, reflect and #ChoosetoChallenge.
What we are doing to support IWD21
Improve and Inspire: We are sharing a short survey to empower women to have their say, our I&D champions will discuss the findings and work to make improvements.
Can do and Will do: We have created a colleague quiz to test our knowledge and open conversations
Open and Honest: 13 women from across the business have shared their stories with the business.
Women at Certas
Read some of the key points from our various colleague interviews:
"It is inspiring to see lots of bright, talented women at Certas and being represented in all areas of the business including those 'traditionally male' roles of drivers, operations. Work hard, be confident, be kind". – Eileen Brotherton, Core Business Finance Director
"It's true that I am very much surrounded by men in this industry and at first I felt like I needed to prove myself but in time, I learnt that I am part of a team who can rely on one another when in need of assistance. I think gender aside, it is more important that you are doing the job properly and are seen as good at what you do by your peers and customers alike" – Joanna Bramley, Tanker Driver
How did you overcome any challenges?
"The key for me was to always remain professional and demonstrate my capability and worth through performing well in my role". – Danielle Seddon, Resourcing Partner
"Anne would recommend that any women starting out in a career in Certas Energy now should have belief in their own ability and the confidence to speak up as the new generation of senior managers are much more supportive of women staff members compared to when she joined the industry in the 80s". Anne Brash, Retired Office Manager
"My advice for other women is just be yourself, where women that I've worked with who I think are brilliant and I aspire to, it is because they are authentic, and that's the same for any leader. If they are authentic and genuine, you know when they're talking it comes from a kind of their passion and what they really believe in. That inspires me because you see people doing it authentically". – Emma Wordsworth, Operations Director
"I think it is really important that staff are supported, and everyone is treated equally in the workplace to create an atmosphere conducive to success. I believe in the right person for the role, regardless of gender or status which cuts both ways when considering equality versus discrimination". – Niki Holt, Head of Commercial Marketing
"It has surprised me a little that I didn't face more challenges because the oil industry is or was more prominently a male industry, things have and are changing, I have seen more women coming into the industry, there are not so many women drivers that I know of though, which is a shame". – Lisa Arnold, Depot Operations Supervisor
Advice to women who aim high:
"First be authentic, be true to yourself, know and follow your North Star, identify the values and goals that motivate you. Within in that – be bold, be proactive and move out of your comfort zone. Be a student of business and understand it from all angles. Build your network and collaborate with people. Let people help you, be true to yourself and your values – don't try to be everything to everybody". – Wilma Kelly, HSE Director
We thank all our colleagues for taking part and for their continued hard work. If you would like to find out more about working at Certas, please visit the Careers page.
If you work for Certas already, feel free to tell us about your experiences of working with us. You can visit Glassdoor to leave a review.