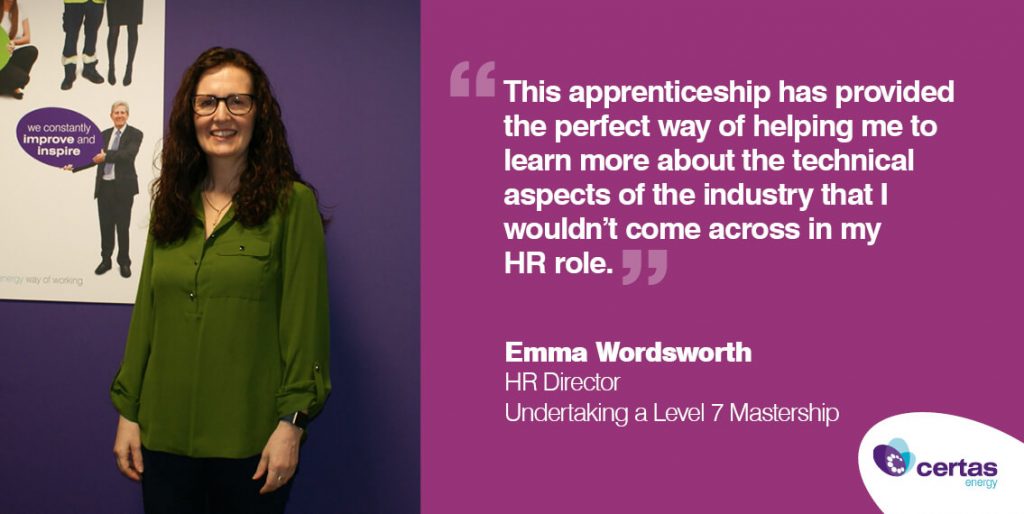 Emma Wordsworth is a HR Director for Certas Energy. She is currently in her second year of completing a MSc. in Logistics and Supply Chain Management.
We caught up with Emma to find out more about why Emma chose to undertake this apprenticeship programme; as well the advice Emma would give to anyone considering an apprenticeship. Finally, Emma also discusses how hiring apprentices in her own department has benefitted the business.
"During my career, I have worked in numerous industries and roles. My last two roles at Certas Energy and Veolia have both been closely related to logistics and I felt I could benefit from learning more on the subject.
I have always had a thirst for knowledge and this apprenticeship has provided the perfect way of helping me to learn more about the technical aspects of the industry that I wouldn't come across in my HR role.
The apprenticeship has given me some granular detail on how we can organise our supply chain, what other companies do and a great deal of in-depth analysis. I never thought I would use excel so much and enjoy it!!
To anyone who is considering applying for an apprenticeship, either with your current employer or at the start of your career journey, I would say take a look at what is out there. The choice of apprenticeships is amazing.
Your apprenticeship needs to be relevant to your role. At least 20% is demonstrating your learning in the workplace. You also need to consider your personal time and commitment, as it is hard work but very rewarding.
We have accepted three talented young apprentices into our HR Department since 2017. This is their first time working in HR since leaving education. For me, I see this as a fantastic opportunity to teach people from scratch about how we do things in Certas.
I like that they want to learn and are always eager and keen to do more. Also, those just out of education are more up to speed with technology, so it is great to learn from them too; they bring some good ideas.
It is just so fulfilling watching people learn and grow in their roles and develop their careers with us".
For further information on Certas Energy careers and current vacancies, please visit our careers page: https://certasenergy.co.uk/about-certas-energy/careers/