Last Saturday (26th August 2023) marked the 38th Manchester Pride Parade. Hosted by the Manchester Pride Charity, the team campaign all year round as part of their mission to improve the lives of LGBTQ+ people in Greater Manchester and beyond.
In 2022, the Manchester Pride Festival raised over £120,000 for LGBTQ+ good causes in Greater Manchester. Pride is a global movement that celebrates advancements in equality, and challenges the discrimination faced by LGBTQ+ people. The organisation strives for a world where everyone is free to live and love without prejudice, and fully supports diverse queer cultures.
Certas Energy proudly took part in this year's Manchester Parade, marching through the city to celebrate Pride. For Certas Energy, this was the pinnacle of our three-year journey into Inclusion and Diversity (I&D). The Certas Inclusion and Diversity forum has spent those three years releasing initiatives to champion I&D conversations and policies throughout our business. For Pride this year, the LGBTQ+ and wider I&D team gathered 30 passionate people throughout our business who wanted to make change, and marched together at Manchester Pride in joy and solidarity. Robert Everitt-Barden (Employee Experience Manager and organiser of this year's Pride march) says "We've always wanted to be in a National Pride and we are the first in our industry to be in Manchester Pride. It's the real highlight of our journey so far into Inclusion and Diversity." Megha Dave (Head of Talent and Development) said she was "…here today representing Certas Energy, as an ally and as the lead of our Inclusion and Diversity forum. The LGBTQ+ group have done an incredible amount of work over the last three years in raising awareness and in making Certas Energy a more inclusive and diverse space for all of our different colleagues and communities, and I'm so proud that I get to be here today to really champion the excellent work that they've done."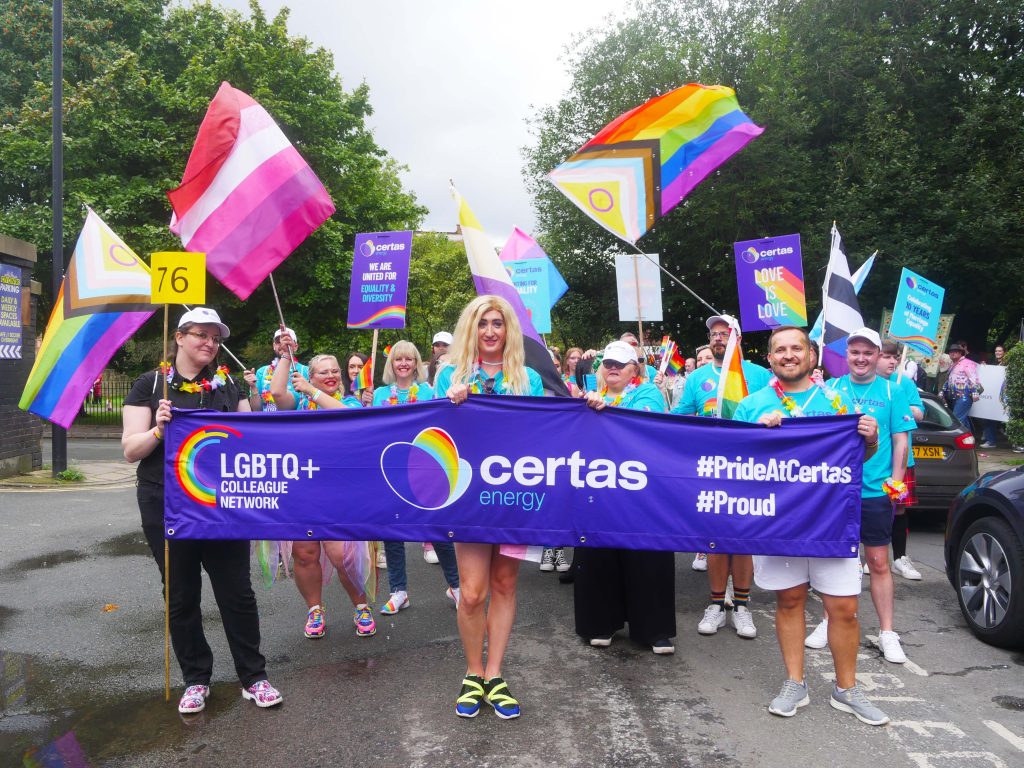 One of our Colleagues Isla Bonnie told us that "Certas Energy have been absolutely wonderful. Coming out to my colleagues 2 years ago after I joined the company, I found the LGBTQ+ group, part of the Inclusivity and Diversity forum, and ever since then they've been so supportive – they've been absolutely brilliant. It's the first time the company has been represented at Pride. Just showing that people like yourself and other LGBTQ+ colleagues, how much pride means…How much the company cares about them too. I think it's really important".
Inclusion for us is, to make sure that everybody comes to work knowing they are free to be their authentic self, and they feel safe, supported and comfortable in the workplace. We have colleagues that have felt safe to come out as trans at work within the last year and a half, and that is as a direct result of the work we have done within our I&D forum. We're really hoping that by demonstrating our commitment to the LGBTQ+ communities, we can absolutely make a difference in the lives of our LGBTQ+ colleagues and their families by giving them a supportive and inclusive environment to work in.
Certas Energy, Scottish Fuels and Humphrey's Oil are proud to support Pride and the LGBTQ+ community, and more colleagues are already asking how to sign up to attend next year's parade!