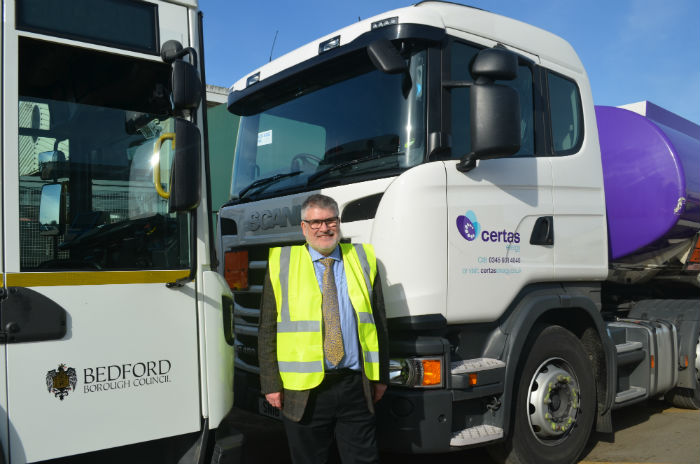 Bedford Borough Council is committed to cleaner air by running a six month pilot to switch select fleet vehicles from traditional diesel to cleaner-burning, Gas To Liquid, GTL Fuel.
GTL Fuel is supplied by Certas Energy, the nation's leading independent distributor of fuels and lubricants. A drop-in, cleaner burning diesel alternative fuel, GTL Fuel can be used to improve air quality without the need for expensive modifications to existing engines or investment in infrastructure. 
GTL Fuel is proven to immediately reduce local emissions of harmful air pollutants such as nitrogen oxide (NOx) by up to 37% and particulate matter (PM) by up to 90%. In addition, the cleaner-burning fuel is odourless and able to reduce noise levels in some engines, a key benefit when operating in residential areas. 
Through the duration of the six-month pilot, Bedford Borough Council plans to monitor the fuel's performance in its fleet and measure its benefits to the environment, workforce and local communities.
Mayor of Bedford Borough Council, Cllr Dave Hodgson commented: "The Council is committed to working in a greener way. We have led the way locally reducing carbon emissions from our estate by over half in recent years. This change to Gas to Liquid fuel will help our fleet to run more efficiently and produce fewer local emissions, and so have a positive impact on our local environment."
Leigh Claridge, Regional Manager at Certas Energy added: "More and more local governments are exploring cleaner ways to power their fleets, with over half of public sector organisations considering adopting alternative fuels in the next twelve months. Alternative fuels can immediately support the transition to a low emission future without impacting productivity, and we're excited to support Bedford Borough Council on their journey to cleaner air."
To find out more about available alternative fuel solutions and the benefits of 'making the switch', click here to download The Alternative Guide to Navigating the New Energy Mix from Certas Energy. 
Interested in improving local air quality by switching your fleet to GTL Fuel? Get in touch today.