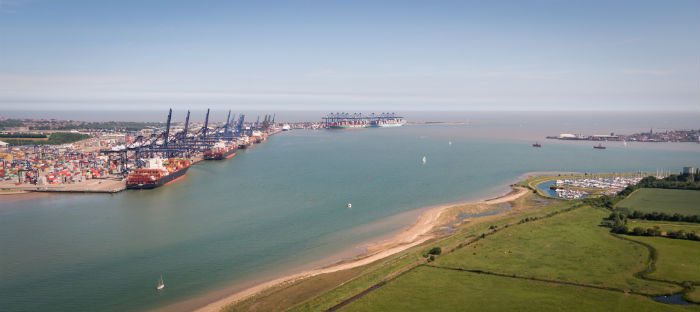 Operating 24 hours a day, seven days a week, 365 days a year, Harwich Haven in Essex is one of the UK's largest and busiest commercial port complexes. Harwich Haven Authority (HHA) is the non-profit organisation that oversees the port, ensuring the complex remains open and operational while helping nearly 5,000 visiting vessels a year to navigate the ports safely.
To support this objective, HHA operates seven vessels; five high-speed pilot launches to run pilotage to visiting ships, one survey vessel to monitor the condition of the port, and one general purpose vessel to support conservation of the harbour through dredging and laying buoys. 
The challenge
Protecting the port's environment for the benefit of harbour users and the local community has always been a key mission of HHA. With all seven of its vessels operating on marine gas oil, which produces high levels of nitrogen oxides (NOx) and particulate matter (PM), improving air quality was a top priority for the port authority. To support cleaner operations, further establish its environmental credentials and protect the health of its workforce, HHA began searching for a way to lower emissions of local air pollutants.
The solution
HHA partnered with Certas Energy to explore alternative fuel solutions that could help minimise its fleet's environmental impact. Following the consultation, HHA switched its entire fleet from marine gas oil to GTL Fuel, a cleaner-burning liquid fuel proven to reduce emissions of NOx by 6-14% and PM by 15-60% when used for marine applications. As a drop-in fuel, HHA could begin using GTL Fuel in its vessels immediately without making any modifications to existing equipment. 
The fuel was introduced to HHA's fuel stocks gradually, initially mixing with existing diesel in engines and tanks before running purely on GTL Fuel once marine gas oil supply was exhausted. Brian Hill, Marine Engineering Manager at HHA, commented: "Changing to the fuel was painless and we've not experienced any interruptions to service as a result of the switch. From delivery to adding the fuel to our tanks, it's been business as usual."
Since making the switch, crew members on HHA vessels have experience a number of operational benefits. The cleaner-burning nature of GTL Fuel has made a visible difference to particulate emissions levels and soot build-up, which has been particularly evident on HHA's older vessels.
Classified as a non-toxic and readily-biodegradable fuel with a low hazard rating, GTL Fuel has given HHA peace of mind that in the rare case of a spill or exposure to the fuel, any impact on the marine environment or workforce is minimised.
Testimonial
"As overseers of one of the UK's largest commercial ports, we have a responsibility to protect and conserve the marine environment. GTL Fuel has helped us to lessen our environmental impact. We worked closely with Certas Energy to ensure a smooth transition, and the team has supported us every step of the way. 
"We're very pleased with the switch to GTL Fuel so far and are looking forward to seeing the long-term efficiency and emissions impacts of the trial." Brian Hill, Marine Engineering Manager at Harwich Haven.