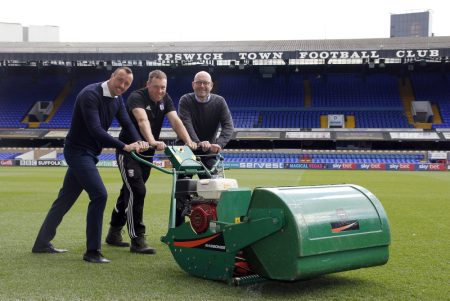 Ipswich Town F.C. is committed to improving the air quality at its Playford Road Training Centre, and has transitioned all ground machinery from traditional diesel to cleaner-burning, GTL (Gas To Liquid) Fuel.
The club plans to monitor the fuel's performance in its training centre's fleet of mowers and tractors and measure its benefits to the environment, grounds staff and local community. If successful, the initial off-road delivery of 2250 litres of may be increased to serve the ground machinery used at Ipswich Town's historic Portman Road stadium.
Ipswich Town Football Club Grounds Manager, Ben Connell, spoke on the motivation behind the switch to and alternative fuel "We believed that the club – and our neighbours – would benefit from adopting an odourless fuel with lower emissions that can reduce noise levels in engines. The grounds staff work with machinery all day and we were conscious of how regular diesel emissions may have been affecting their health and well-being.
"Furthermore, our Playford Road Training Centre in Rushmere-St Andrew is surrounded by a number of residential properties and we felt a responsibility to minimise the environmental impact on the local community – GTL fuel was an ideal solution.
"I think the highest praise we can give GTL Fuel is that we haven't noticed it at all. It's been business as usual since we made the switch from diesel: no operational issues, no teething problems – completely seamless."
GTL Fuel has been shown to reduce Nitrogen Oxide by up to 37% and Particulate Matter emissions by up to 90% – both of which are released from diesel combustion engines and pose a serious and immediate impact to human health in UK towns and cities.
GTL Fuel is also free of unwanted components such as sulphur, metals and aromatics, making it non-toxic and therefore less harmful to the environment.
Leigh Claridge, Regional Commercial Manager at Certas Energy said: "We were very excited by the opportunity to partner with Ipswich Town Football Club. Not only due to the heritage and stature of the club, but because of its innovative and forward-thinking approach to improving air quality for staff and local communities alike. As the first carbon neutral football club in the UK – as well as its 'green' collaborations with the likes of E.ON, DEFRA and the University of East Anglia, GTL Fuel is the ideal solution to support its future environmental initiatives."
If you would like to learn more about how GTL fuel could help your business reach emissions targets, lower costs and increase productivity – click here.