With the aid of consultancy services from Certas Energy, major businesses in the construction sector have identified opportunities to reduce their fuel-related total cost of ownership by up to ten percent.
Total cost of ownership (TCO) accounts for both the direct and indirect costs of a product over its lifetime. For businesses where fuel is a major expenditure, the TCO of fuel-related operations can have a major influence on the bottom line.
Fuel efficiency; product quality and choice; storage, monitoring, administration and management practices all impact the lifetime costs of fuel-related procurement and usage. Case studies have shown that up to 15% of the TCO is directly manageable with the right approach and the right expertise, with the other 85% dependent on fuel pricing.
More than just a fuel supplier, Certas Energy's specialism in the oil markets, sector legislation, industry innovations, fuel applications and fleet management, as well as its product expertise on all fuels, fuel cards, lubricants, AdBlue, storage tanks and additives enables the company to expertly identify where significant cost savings can be made to help drive greater profits for its customers.
Certas Energy's TCO consultancy services provide a comprehensive and in-depth review of the complete fuel value chain, leading to recommendations that can lead to make typical savings of up to 10% on fuel-related costs over a three year period.
Upon implementation, businesses can achieve impactful, long-term cost reductions in a variety of key areas including:
 – Fuel procurement
 – Wastage
 – Idle time
 – Safety, health, environment and quality (SHEQ)
 – Admin, management and reporting
 – Working capital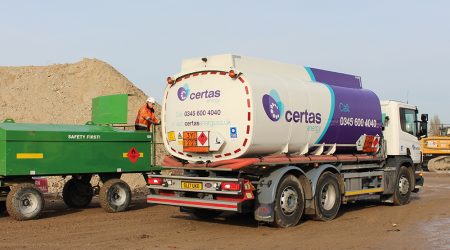 Example: A leading plant and equipment company
Working with one of the UK's leading plant hire and equipment businesses, Certas Energy's TCO consultancy services highlighted several areas where impactful cost reductions could be made.
After an in-depth review and consultation process, Certas Energy identified opportunities for significant efficiencies and savings throughout purchasing, storage, payment, fuel and fleet management.
The result? Potential savings of over £1.2m.
Example: A major UK construction contractor
For one major UK construction contractor, prolonged idle times, maintenance, reporting and high commodity costs were causing a serious TCO headache.
Through a combination of a range of recommendations, Certas Energy's TCO consultation identified total savings opportunities for enhanced productivity with savings of around £600,000.
Acting as a key fuel partner, Certas Energy now works closely with this customer to supply considerable annual fuel volumes and fuel storage tank maintenance to help support the business' environmental credentials.
For more information on how TCO consultancy from Certas Energy can help your business reduce fuel-related costs by up to 10% get in touch.