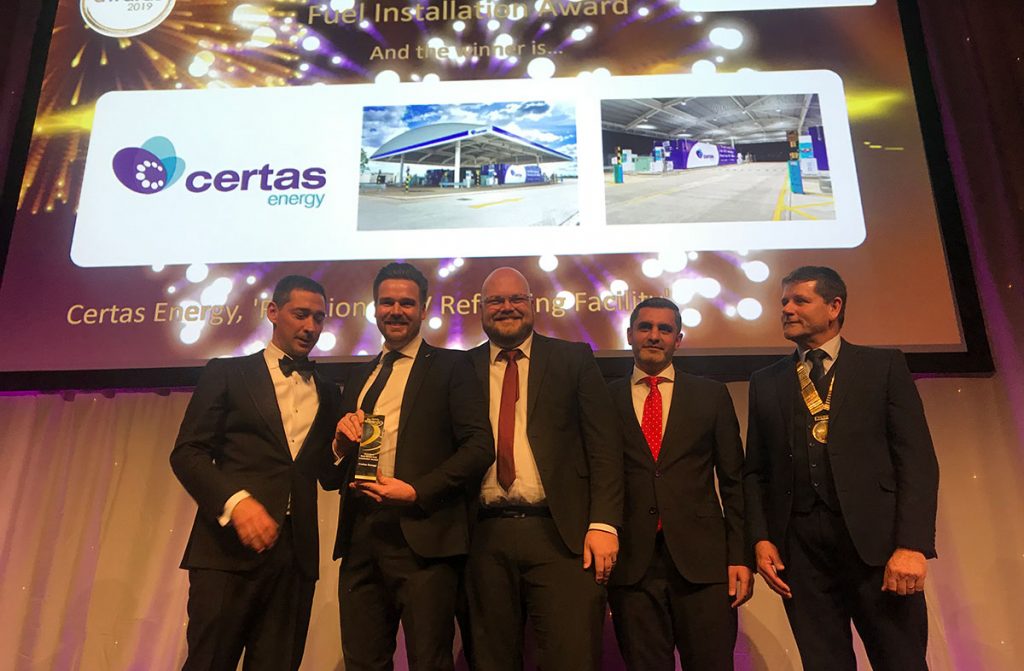 We're delighted to announce that our HGV refuelling bunker site at Red Lion Truck Stop was named Best New Non-Retail Fuel Installation at this year's prestigious Association for Petroleum & Explosives Administration (APEA) Awards.
Certas Energy's Red Lion refuelling facility took home the award after being recognised not only for its pioneering design, environmental safety and quality of installation work, but its contribution to driving change in the quality of facilities available to truck drivers.
Commenting on the bunker site, judges at the APEA Awards said: "The facility was extremely well considered and designed, […] and focused in on the needs of HGV customers. Overall, the consensus was that Certas Energy had raised the bar for HGV truck stops, and that this was the outstanding entry in the category this year."
Located at the popular Red Lion Truckstop – 400 metres off junction 16 of the M1 – Certas Energy's refuelling facility is a one-stop-shop for truck drivers, dispensing road diesel, gas oil and AdBlue® 24/7, 365 days a year.
Andrew Goodwin, National Bunker Manager at Certas Energy, said: "It's fantastic that the refuelling facility at Red Lion has brought home the award for Best New Non-Retail Fuel Installation. There is a significant shortage of suitable refuelling and welfare facilities for truck drivers across the UK. We're committed to supporting dedicated truck stops that offer much-needed facilities and amenities to meet truck drivers' unique needs.
"Our Red Lion facility brings much needed convenience and speed to HGV refuelling and has been designed to reduce congestion while supporting multiple new logistics developments in the area. We look forward to welcoming more truck drivers to the site and helping to keep the UK's haulage and logistics sector moving with a reliable, on-the-go refuelling."
The Red Lion site is unique in that it provides truck driver-dedicated refuelling in one of the busiest logistics corridors in the UK, with multi-product availability to suit different types of HGVs including LGVs, refuse collection vehicles and refrigerated trucks. With aboveground tanks and a branded canopy, it is distinctive in design from anything else on the M1 motorway.
Designed with drivers in mind, the Red Lion refuelling bunker features a unique pump configuration that allows eight trucks to refuel simultaneously at much faster speeds than a retail forecourt plus wider lanes for greater manoeuvrability. The capacity of Red Lion's design is three times that of a typical motorway services, which often offer only two or three refuelling positions for HGVs.
For added convenience, the site is separate to the truck stop's main facilities, meaning drivers can roll up, refuel and drive away without having to wait behind other vehicles or queue up in a service station kiosk to make a payment.
Cashless payment terminals at the pumps mean that drivers can purchase their fuel on any fuel card so they can get back on the road quickly. Drivers using a Certas Energy fuel card also receive a discount on all diesel purchases
The facility is one of over 20 Certas Energy refuelling bunker sites across the UK's strategic road network. To find out more about our nationwide HGV-dedicated refuelling facilities, click here.
Discover how a Certas Energy fuel card can help your logistics business save at the pumps – download our fuel card guide here.