Richard has been a tanker driver for 15 years and more recently a driver trainer. His son, Kyle is a driving apprentice. They tell us about their experience of apprenticeships at Certas Energy.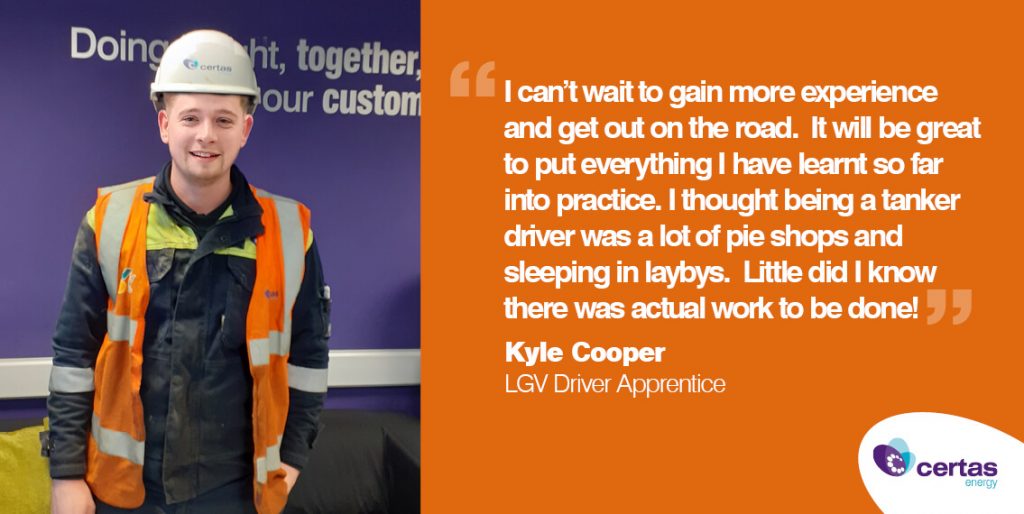 Kyle, LGV Driving Apprentice
I was always intrigued about my dad's job. Knowing only what I had heard him talking about at home, I didn't know what to expect. I thought it was a lot of pie shops and sleeping in laybys. Little did I know there was actual work to be done!

Once I'd completed the paperwork, I was excited to progress to the more practical aspects of the job. I always knew the products my dad handled were dangerous, but I now truly appreciate just how dangerous they are. I have learnt how much of an impact the products used can have on the environment and just how easy it is for things to go wrong.

So far, I am fluent on the Alma and Alfons Haar metering system and I have really enjoyed learning the differences between them. I have learnt the importance of a thorough tank check before, during and after the delivery, as well as what tanks we can and can not deliver to. I can now also spot the potential things that can go wrong before they happen and how to avoid these situations.

Next week, I am going to undertake my HGV license test, which I am really looking forward to. I can't wait to gain more experience and get out on the road. It will be great to put everything I have learnt so far into practice.

The opportunity to join the apprenticeship scheme was one I could not turn down. Each day is different and there is always plenty to learn and experience and new challenges to conquer. I go home at the end of the day with a sense of achievement that my previous role did not offer. I am truly thankful for this opportunity.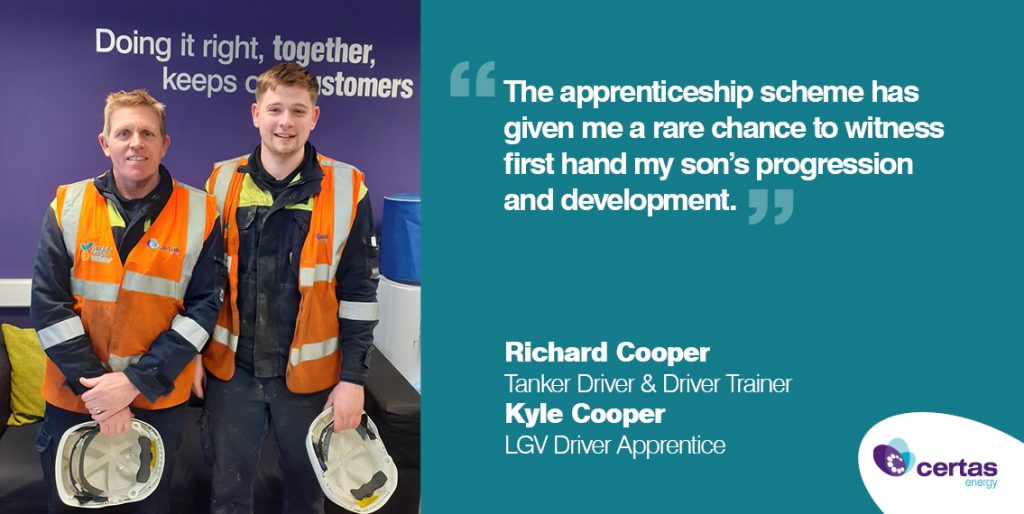 Richard, Driver Trainer and Kyle's Dad
I have been a Tanker Driver for over 15 years, and a Driver Trainer for the latter half of my career. I have been responsible for the successful training of many of the new drivers in the Yorkshire region.
I have always been passionate about my duties as a fuel delivery driver, fully appreciating how my actions and method of working can be the difference between a successful delivery to a happy customer or an incident with potential negative implications.

It has always been a gratifying experience to share and impart my knowledge and expertise with new colleagues. The Driver apprenticeship scheme has only increased my sense of satisfaction. Not only do I get to see a new team member transform from someone with little experience to a colleague that is confident in their duties, but I can now also take pride that my son is taking on this transformation.

Throughout much of Kyle's childhood and adulthood I have spent many hours at work, but thanks to apprenticeship scheme I have been able to see first-hand that Kyle is a chip off the old block. He is committed to carrying out his role safely and with the required dedication.

The driver apprenticeship scheme has given me a rare chance to witness my son's progression and development.

For further information on Certas Energy careers and current vacancies, please visit our careers page: https://certasenergy.co.uk/about-certas-energy/careers/