Tom was encouraged to apply for an Apprenticeship by his Dad, Ricky who has been a Driver with Certas Energy for 14 years.
We caught up with both Tom and his Father, Ricky to understand what an apprenticeship means to them.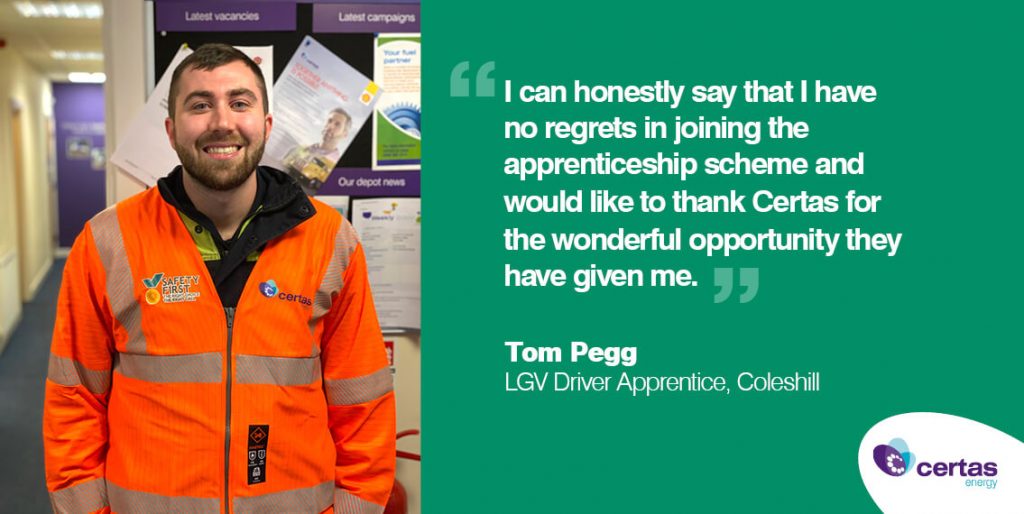 Tom, LGV (Driver) Apprentice:
I started my apprenticeship cautiously but full of anticipation on a sunny morning on Monday in July 2019.
On the first day I was office bound exploring all aspects of the business. By the end of the day I was raring to go, full of the challenges my new career path would put before me.
Before I joined Certas I was a warehouse operative at a distribution center, but my days could be repetitive and predictable.
My Dad had been trying to steer me into a driving profession for a while and the apprenticeship opportunity at Certas Energy was the perfect chance to pursue that.
The lure of the chance to learn new skills and the opportunity to have a career in an industry that would allow me to broaden my knowledge whilst also providing a secure future for myself prompted my application.
Within the first few months, I obtained my ADR qualification (Carriage of Dangerous Goods by Road) and my HGV license.
Already, I have been actively involved in the delivery process of all products to a variety of customers, domestic, commercial & retail. I have also assisted in the loading of product at the terminal but I am limited to my involvement until I obtain my PDP (Petroleum Driver Passport) card.
With the training and patience my Dad has shown me, I feel confident and competent enough to efficiently complete delivery tasks to the standards required by the company.
I was gradually introduced into driving, initially driving the truck back empty from a delivery, progressing further once I gained my confidence on the road. I am now confident and more than happy to drive in all road & weather conditions with a fully, partially loaded or empty tanker in the morning, noon or night.
I have enjoyed a rapidly paced learning experience, working alongside my Dad and also making new friends along the way.
I can honestly say that I have no regrets in joining the apprenticeship scheme and would like to thank Certas for a wonderful opportunity they have given me.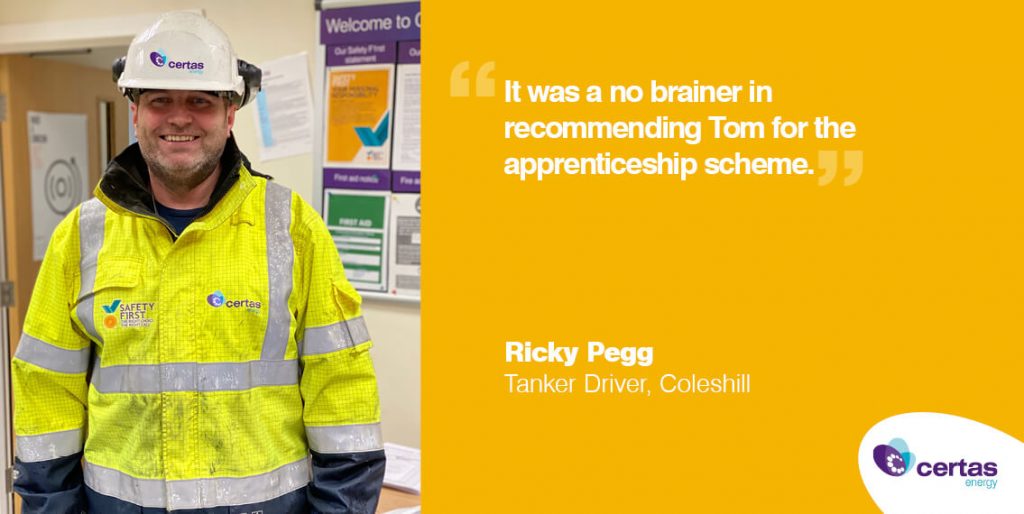 Ricky, Driver (and Tom's Dad)
It was an absolute pleasure and a privilege to be involved in assisting Thomas with his training.
I began by giving Tom a notebook and advising him to shadow me for the first few days, observing, making notes in his notebook and asking questions along the way. During the day I would test Tom with questions relevant to the job to ensure he was taking notice. I was impressed with how quickly he learnt and how willing he was to learn.
It was then that the fun began as Tom started to get involved with the delivery side of the job. 'It's all about the technique' I kept telling him between laughing at him for the umpteenth time of the day when he would be either hugging the hoses or hanging off the connections.
Quickly though, he became detached from his love of getting dirty and hugging hoses and he found an inner strength to be able to find his own successful technique.
Tom learned very quickly how to use the metering system and after a few weeks I could proudly say that I had the confidence that my son could competently deliver product to a customer using all delivery methods available to him.
After getting over the initial fear and inexperience of driving a tanker for the first time Tom soon took to driving like a duck to water and I felt very relaxed as a passenger, safe in the knowledge the truck was in safe hands.
It was a no brainer in recommending Tom for the apprenticeship scheme. I have been in the industry for 14 years and have loved every minute of the good times and the challenging times, but more importantly the fact that no two days are the same and it far out ways a mundane factory job which Tom was stuck in.
I too would like to thank Certas Energy for giving Tom this opportunity, but also for allowing me the immense pride and satisfaction of working alongside my boy.
He has proven to me that he has the same work ethic as myself and I look forward to working alongside him in the future.
For further information on Certas Energy careers and current vacancies, please visit our careers page: https://certasenergy.co.uk/about-certas-energy/careers/