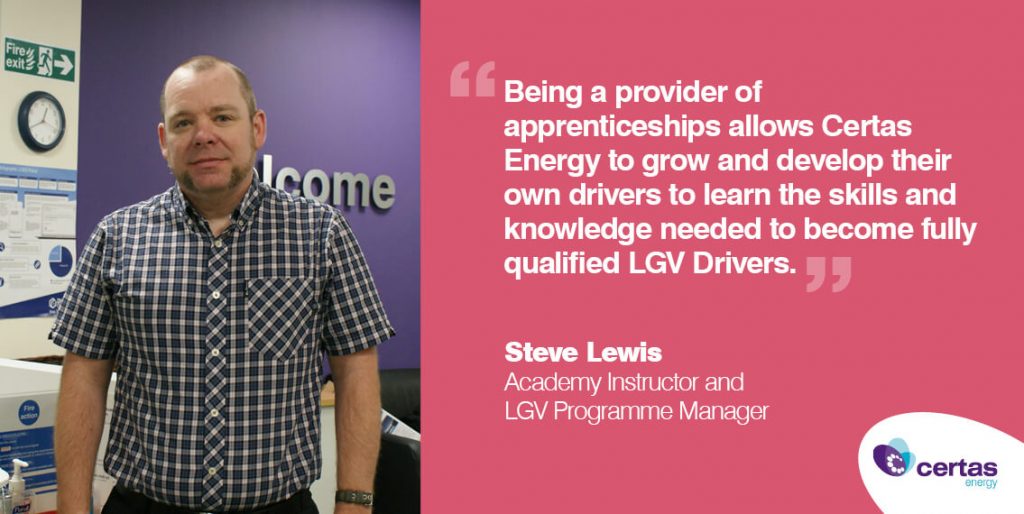 Steve is one of our Academy Instructors for Certas Energy's Transport Department. As well as delivering training to our Drivers, Steve manages the Apprentice Driver Programme.
Our drivers play a pivotal role within our business, Steve explains the benefits of recruiting and training our own driver apprentices.
"Being a training provider of apprenticeships allows Certas Energy to grow and develop our own drivers. We can carefully design our training programme to ensure our apprentices acquire the knowledge and skills needed for our business whilst becoming a fully qualified LGV Driver.
Apprentices receive a range of practical and theory based learning. They can expect to take part in practical training and shadowing competent Drivers to learn the processes and skills required to deliver fuels to different customers (Retail, Commercial & Domestic) safely.
Formal training courses they can expect to complete include:
• LGV Cat C Licence, practical and theory training to enable the Apprentice to pass the DVSA Cat C theory and practical test and CPC case study and test.
• ADR, 3 day classroom and exam to gain legal certification required to drive a vehicle with dangerous goods on board.
• PDP, theory and practical course with both a written and practical exam to gain an industry qualification allowing Drivers to load fuels from the main Terminals.
A large part of our Driver's role is dealing with our customers after all, on delivery, they are the face of Certas Energy. The Apprentice Driver Programme provides all the skills and knowledge to deliver our products safely and efficiently whilst maintaining high standards of customer care.
For further information on Certas Energy careers and current vacancies, please visit our careers page: https://certasenergy.co.uk/about-certas-energy/careers/