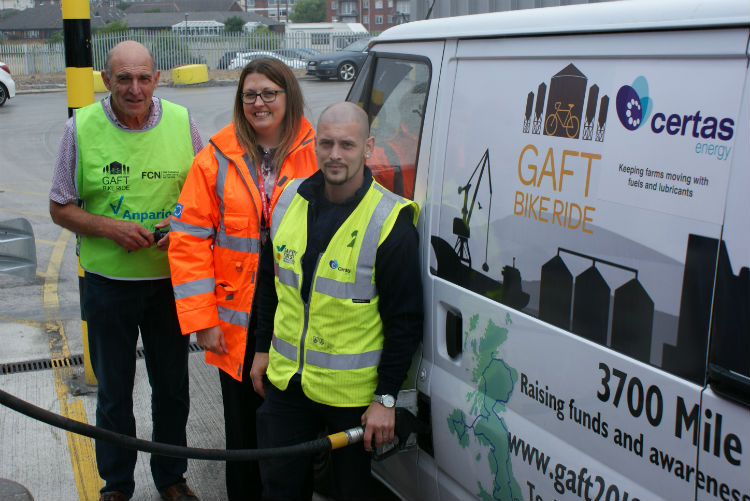 Certas Energy is supporting the Grain & Feed Tour (GAFT) charity bike ride by donating fuel for its support vehicle as it follows riders across the country.
Taking place between 19th June and 31st July, the GAFT relay bike ride raises money for the Farming Community Network (FCN), a voluntary organisation that supports farmers and their families through difficult times.  With participants from regional grain and feed trade associations across the UK, the event covers nearly 4,000 miles taking in the country's principal mills, ports, grain and feed sites.
As a long-established fuel supplier to the farming community, Certas Energy is proud to be a part of this charitable event supporting UK's farmers and is donating low emission GTL Fuel.  The charity event's support team will be fuelling its vehicle with a Certas Energy fuel card from the company's HGV fuel site at Peel Ports in Liverpool on 24th July.
Supplied by Certas Energy, GTL Fuel is a drop-in alternative to diesel which reduces emissions of harmful pollutants such as nitrogen oxide and particulate matter to immediately improve local air quality. As well as being non-toxic and biodegradable, the fuel produces less odour and smoke than conventional diesel, creating a healthier, more pleasant environment for cyclists taking part in the GAFT ride.
Helping to keep the farming community moving is at the heart of what we do,
and we're delighted to be able to power a cleaner, healthier and safer bike
ride with GTL Fuel. The FCN does such valuable work in the farming
community and we're proud to be supporting the GAFT event which will
raise money for such an important cause.
Ruth Sim-Mutch, Agriculture Marketing Manager at Certas Energy