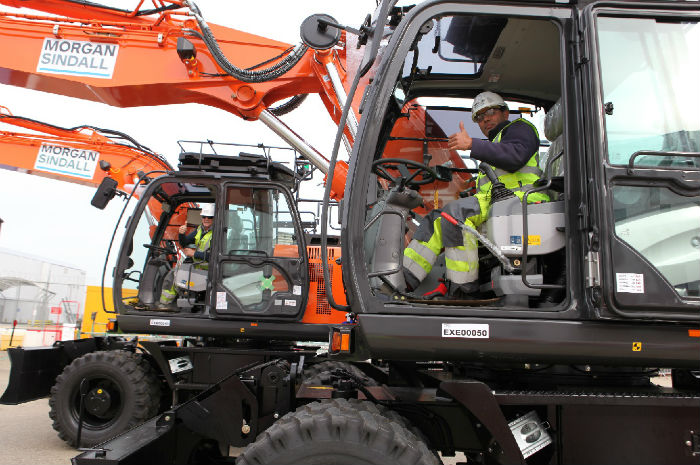 Leading UK construction and infrastructure company Morgan Sindall has demonstrated its commitment to minimising the environmental impact of its operations by being one of the first in its industry to take delivery of GTL Fuel, a cleaner burning alternative to diesel.
Supplied in the UK by Certas Energy, the nation's leading independent distributor of fuels and lubricants, the Gas-to-Liquid (GTL) fuel is a paraffinic fuel which can be used as a direct alternative to conventional diesel. Its improved combustion properties have been proven to reduce emission levels of harmful pollutants such as nitrogen oxide (NOx) and particulate matter (PM) to immediately improve local air quality. Trials have shown NOx emissions can be reduced by up to 37%, and PM by up to 90% with GTL Fuel compared to conventional diesel.
The construction industry is making huge efforts to improve air quality in the UK. Making smarter, more responsible fuel choices like switching to a cleaner diesel alternative, offers construction businesses a practical way to have an immediate impact on emission levels.
As a drop-in fuel, GTL Fuel can be used as a direct replacement for diesel to improve air quality without the need for expensive modifications to existing engines or investment in infrastructure. The fuel is free of unwanted components such as sulphur, metals, and aromatics which make it non-toxic, biodegradable and less harmful to the environment. The fuel also produces less odour, smoke and engine noise than conventional diesel to create a more pleasant working environment for operatives and has improved starting performance in colder conditions. 
The fuel was delivered from Certas Energy's Harefield depot to a Morgan Sindall site in Heathrow and Graham Edgell, Director of Sustainability and Procurement at Morgan Sindall Group, commented:
"Protecting local communities, our workforce and improving the environment is central to our values which is why we've worked closely with Certas Energy to realise our first delivery of GTL Fuel to further reduce our on-site emissions. GTL Fuel is an innovative solution that can make an immediate difference and we look forward to continuing to work together with Certas Energy to help improve local air quality and deliver benefits to our workforce and the communities we work in."
Emma-Jayne Brown, Construction Marketing Manager at Certas Energy, said: "Certas Energy is committed to supporting construction companies' smarter fuel choices so they can reduce local emissions without impacting productivity and it's great to see leading contractors take action. GTL Fuel represents a pragmatic solution for construction companies looking to improve their environmental impact. We're delighted to be supporting Morgan Sindall uphold its environmental values, helping to build a cleaner, safer, healthier future for the construction industry."
Certas Energy is inviting the construction supply chain to complete a short survey to better understand the role the industry thinks alternative fuels have to play in efforts to reduce emissions. Entries completed before Friday 20th July will be entered into a prize draw to win a £50 Amazon gift card and the survey can be completed here. 
To find out more about the benefits of GTL Fuel please click here or contact Certas Energy via 0345 600 4040.