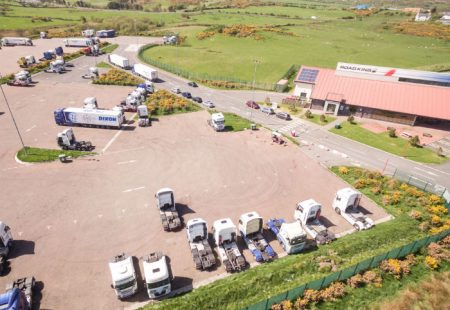 A brand-new 24-hour HGV refuelling facility is set to be built at Holyhead Port after Certas Energy announced plans to develop a second facility with truck stop specialists RoadKing.
Certas Energy – the UK's leading independent fuel distributors – confirmed that a new state-of-the-art bunker facility will be created on the site, which is situated just off the A55 in North Wales at junction 2.
The site is due to open later this year and the new facility will be situated on site at the existing RoadKing truck stop, which opened its doors in May 2015 and offers drivers comfortable accommodation, an inviting restaurant, a 24-hour fully licensed bar, as well as in demand wash facilities and showers.
Up to four HGVs will be able to refuel at the same time taking advantage of high speed pumps, which dispense fuel at up to 120 litres per minute. The site will also feature advanced data collection technology, fuel monitoring equipment, filtration systems and multi-product dispensers including Road Diesel, Gas Oil and AdBlue.
Andrew Goodwin, National Bunker Manager at Certas Energy, said: "We're delighted to unveil our plans to build a brand-new HGV refuelling facility at Holyhead Port, which strengthens our commitment to fuelling Britain's ports, including the Port of Liverpool.
"Around 400,000 lorries and trailers pass through the busy Holyhead Port every year making it one of the busiest ports in the UK for Irish Sea freight, so this is a strategic investment for us that supports our ambition to establish a strong network of refuelling locations across the UK.
"It's an incredibly exciting time for all of us at Certas Energy and we're very pleased to be working so closely with RoadKing again as part of this development. Our partnership means drivers passing through Holyhead will soon be able to benefit from the convenience of a state-of-the-art refuelling site alongside a best-in-class RoadKing truck stop." 
The partnership between Certas Energy and RoadKing follows on from the success of a similar development in 2017, which saw a new HGV refuelling bunker built at the New Hollies Truckstop in Cannock. Located on the A5, just off junction 12 of the M6, over 16,000 drivers have refuelled at the site since it launched 8 months ago. 
Nicholas Whatmore, Director for RoadKing said "We pride ourselves on speaking to drivers to make sure we give them everything they want in a truck stop and a refuelling facility is something that many of them have told us would be a huge benefit.
"Our collaboration with Certas Energy at our Cannock site has been a great success and we're thrilled to now be extending that to Holyhead Port. It means even more of our customers can take advantage of the 24-hour truck stop services we offer and conveniently refuel their vehicles at the same time before completing their journeys."
UK Fuels, Key Fuels and Certas Energy fuel cards will all be accepted at the site, with Certas Energy customers receiving a 1ppl discount on all diesel purchases.
For more information about Certas Energy and the network of bunkering facilities in the UK, visit https://www.certasenergy.co.uk/fuel-cards