Hydrotreated Vegetable Oil (HVO fuel) is fast becoming a popular choice in industry, given its strong sustainability credentials and seamless integration. In fact, Zemo estimates 4,000 HGVs are now running on renewable diesel and highlights HVO as a key route to decarbonisation for construction sites with Non-Road Mobile Machinery (NRMM). 
The fully biodegradable fuel can be used as a direct replacement for diesel, as it is compatible with all diesel engines, cutting up to 90 per cent of lifecycle greenhouse gas (GHG) emissions, instantly.  
But given its relative infancy in the energy market, many companies need a steer on separating fuel fact from fiction. As one of the leading HVO suppliers in the UK, we have the knowledge and expertise to do just that.   
Here, Neil Ryding, Senior Technical Consultant for Certas Energy, challenges the common misconceptions around HVO to help you decide if it is the right fit for your business. 
MYTH 1 
"HVO is not a cost-effective solution"  
Reality check: The cost of fuel per litre for HVO is higher than standard diesel, typically ranging between 15% and 30%. While operating expenses may be currently greater, this price gap will decrease as availability increases. Furthermore, as there is no major upfront capital expenditure requirement, as no new machinery or vehicles are needed to make the switch, companies can begin their lower emissions journey with no additional infrastructure spend. 
MYTH 2  
"Adopting HVO would disrupt my business."  
Reality check: As HVO is a drop-in diesel alternative, it can be used in place of standard diesel, without any modifications to the machinery/vehicles or engines. This limits disruption to business operations, allowing you to sustain high levels of productivity and avoid a time-consuming or onerous fuel transition.
MYTH 3
"Electricity is the only viable route to net zero." 
Reality check: Electrification is crucial in the energy mix of the future. However, there are current limitations preventing it from being a feasible long-term option for wide-scale commercial use, such as insufficient battery range and lack of a robust charging infrastructure. Furthermore, electricity may not produce any emissions while it is powering vehicles or equipment, but the processes used to generate the power, as well as establishing the charging networks, are often still fossil-fuel dependent. Therefore, it is not a fully formed solution for a zero-emissions future at present.
HVO is particularly valuable for businesses who have fleets of heavy duty vehicles or machinery, such as HGVs, tractors and plant equipment, which are difficult to decarbonise. Zemo recently published its Renewable Fuels Guide, which was designed to help HGV fleet operators make informed decisions about low carbon fuel options and make important steps towards net zero. The guide champions Certas Energy's successful energy transition to HVO, serving as inspiration for transport businesses looking to lower their own carbon footprint.
MYTH 4
"I am not yet legally obliged to switch to an alternative cleaner fuel so there is little value to making the transition today"
Reality check: It is an inescapable fact that the UK is moving towards a net zero emissions future. Legislative changes are already being passed to encourage the adoption of alternative fuels and combat the UK's air quality crisis. An example of this is the withdrawal of red diesel use for the majority of industries in 2022.
This move saw HVO's popularity accelerate, as businesses sought cleaner, compliant and convenient alternatives to white diesel. With further restrictions on the horizon, more businesses will be encouraged to take up the cleaner-burning baton. HVO offers a way for businesses to take a proactive step on their carbon reduction journey, helping to plug the gap to net zero and offering significant sustainability benefits along the way.
MYTH 5
"HVO is unreliable as a primary fuel source."
Reality check: Like any new technology to the market, it takes time for a supply chain to stabilise and fully mature. Demand drives supply and growing awareness of HVO is feeding further investment, bringing greater availability to the market.
HVO is now gaining traction in multiple industries, from marine organisations, such as the British Antarctic Survey, which is trialling Certas Energy HVO aboard RRS Sir David Attenborough, to major transport companies, including Royal Mail, which is gradually transitioning its HGV fleet to HVO.
The fuel is also showing promise as a low carbon heating solution for the future. As part of the Future Ready Fuels Project, Certas Energy has helped to convert hundreds of homes and businesses across the UK from heating oil to HVO.
MYTH 6
"It doesn't matter what HVO supplier I use"
Reality check: Greenhouse gas saving from HVO differs between products, as it does not come entirely from tailpipe emissions. It is a based on a life-cycle, well-to-wheel calculation, taking into account feedstock, production processes and transportation. That is why it is imperative to do your research when it comes to your supplier; to ensure the HVO you choose meets your sustainability objectives, and that you can be confident in your carbon reduction claims. Check out our top tips for choosing a trusted and transparent supplier.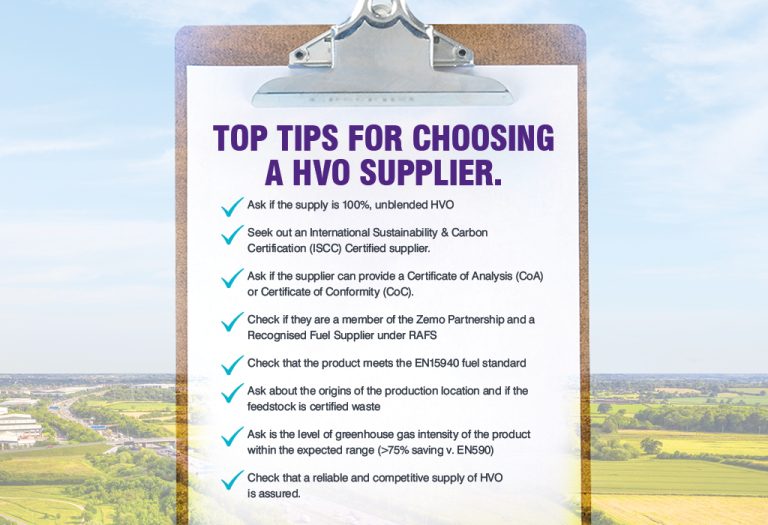 At Certas Energy, we understand the value of transparency.
We only partner with Zemo accredited and/or ISCC certified HVO suppliers, each one having a fully validated and auditable supply chain, and we are Renewable Fuel Supplier under the Renewable Fuels Assurance Scheme (RFAS). 
So, you can trust the governance of Certas Energy HVO and be certain of its sustainable sourcing and environmental credentials.
MYTH 7
"The UK doesn't have a reliable supply of HVO"
Reality check: As well as fuelling our own fleet with the low carbon diesel alternative, we deliver to businesses across the UK. With an extensive national network of 900 tankers, 130 local depots, and high-speed bunker sites, we can ensure a reliable, convenient, and competitive supply of Certas Energy HVO to your business, wherever you may be.
The drop-in renewable fuel is also available at a growing selection of our refuelling sites – making Certas Energy the first in the UK to offer HVO fuel to HGV fuel card users at the pump.
MYTH 8
"HVO isn't suitable for my business"
Reality check:  HVO is suitable for on- and off-road vehicles, plant and machinery across a range of industries, including construction, agriculture, transport and logistics, marine and the public sector.
HVO is approved by most OEMs. If you are unsure about the compatibility of your machinery or vehicle's engine, contact your manufacturer or one of our experts.
MYTH 9
"My business isn't ready to make a full switch and fuelling options are too limited."
Reality check: Making the switch to alternative fuel can seem like a major commitment. But it need not be. As a leading HVO fuel supplier, we are dedicated to providing flexible fuelling options that help all customers' make a gradual move towards HVO adoption, without impacting productivity or profitability.
For example, we now offer Certas Energy HVO in Intermediate Bulk Containers (IBCs) as a convenient way to trial Certas Energy HVO before making the full switch. The easy to handle and transportable containers are ideal for large sites with limited space and can help to reduce product waste.
We also offer split deliveries, whereby the renewable diesel is supplied in intervals. For example, customers can receive one delivery of HVO fuel for every four deliveries of standard diesel.
This approach allows businesses to make a gradual transition to HVO, helping to allay any concerns of a straight switch to HVO fuel and to facilitate better fuel cost forecasting.
Ready to kickstart your energy transition?
We not only have a reliable, responsive and responsible supply of HVO, but the expertise and industry insight to support you in making a smooth, seamless transition. Speak to one of our HVO experts today to unlock the full potential of HVO, right away.