We were delighted to participate at the Vertikal Days 2018 event earlier this month at Donington Park. We demonstrated how construction companies can move, maintain and store fuel safely and securely on site.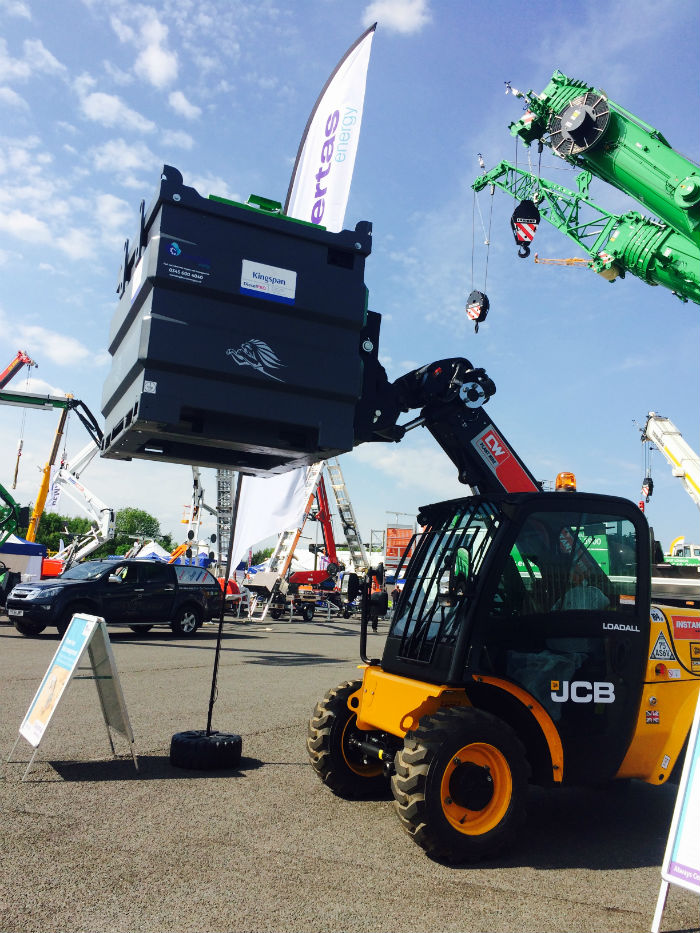 Managing fuel usage effectively, is essential to keeping lifting equipment moving and avoiding the costs and loss of productivity that can occur if a site runs out of fuel. As a specialist provider to the construction industry, Certas Energy provides reliable, nationwide deliveries of bulk and specialist fuels, additives, AdBlueⓇ and lubricants for stress-free fuel management.
Keeping fuel stored safely and securely on a congested construction site can be challenging.  Certas Energy offers a range of solutions that improve the compliance, reliability and cost efficiency of fuel storage. For example, with a fully transportable design and ability to fuel multiple pieces of equipment simultaneously, the DieselPROⓇ 3,000 litre fuel cube tank saves time and improves productivity. Built-in fuel monitoring allows Certas Energy to monitor and manage fuel levels to prevent sites from running out of fuel. The transportable fuel cube, which will be on display at the show, can be easily moved around construction sites with a forklift or crane which provides easier access and improved storage safety when the site is closed.
Emma Jayne Brown, Construction Marketing Manager at Certas Energy, commented: "A reliable fuel supply is critical to keeping construction sites moving and in an industry looking to drive down time, cost and risk, our fuel storage solutions make fuel management simple. By triggering automatic deliveries, our advanced telemetry devices help prevent sites from running out of fuel so that site managers can concentrate on getting the job done, confident that they have the fuel they need to keep their equipment operating efficiently."
With the urgent need to tackle the air quality crisis in the UK, Certas Energy is committed to fuelling a cleaner, safer, healthier future for the construction industry with alternative fuels. GTL Fuel, available in the UK from Certas Energy, is a cleaner burning alternative to diesel that is proven to reduce nitrogen oxide (NOx) and particulate matter (PM) emissions as well as providing several performance benefits. One of the biggest benefits of GTL is that as a drop-in fuel, it requires no modifications to existing diesel engines, removing the need for expensive upgrades to existing equipment.
Brown added: "As a drop-in solution, GTL Fuel provides part of the solution to reducing local emissions created in construction. We're looking forward to speaking to visitors at Vertikal Days to provide clarity around the benefits alternative fuels such as GTL can deliver to support the construction industry in reducing emissions for a more sustainable future without impacting on productivity."
For more information on how you can move, maintain and store fuel safely and securely on site contact us on getintouch@certasenergy.co.uk or 0345 600 4040