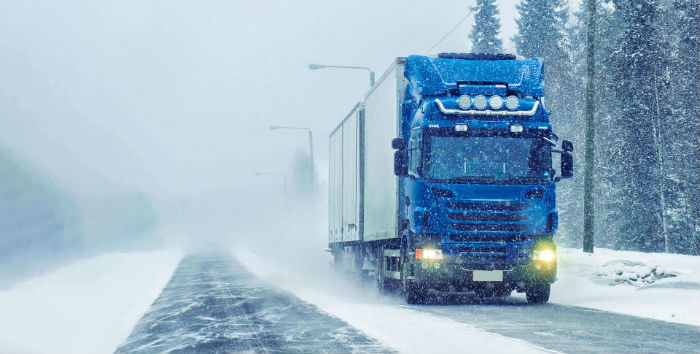 Most HGV drivers do not have the luxury of delaying their journeys when the cold sets in. As temperatures begin to drop, follow these top 10 tips to stay safe and keep moving in winter weather. 
1. Check conditions before setting off. Take a look at the forecast before getting in your lorry. The weather may be pleasant enough when and where you plan to set off, but this could change in an instant. The Met Office website should be a first point of call, as it produces alerts for high-sided vehicles to warn of inclement weather. Make sure you plan out your journey and are aware of any potential hazards on the way to your destination.
2. Pack a survival kit. During winter there is a real risk of becoming stranded due to harsh conditions. Creating a survival kit to store in your cab is vital in case emergency strikes. Be sure to pack a torch and spare batteries, a thick blanket, a hazard triangle, first aid kit, warm clothes, non-perishable food, a mobile phone and a charger.
3. Make sure you're topped up. A full tank of fuel helps to increase the weight of your truck for better traction. It will also keep you moving in case of delays. Employing the right fuel storage and management solutions can ensure you never run out of fuel. Discover our full range of tanks and fuel monitoring solutions here.
4. Drive slow. Keep your speed lower than usual to improve traction on wet or icy roads. Reducing speed can also give you more time to react to unpredictable situations.
5. No sudden movements. When driving in winter conditions, do not brake, accelerate or turn suddenly as this can cause your lorry to skid or slide. Operating your vehicle smoothly and consistently helps to improve control when you need it most.
6. Maintain a safe distance. Wet and icy conditions dramatically increase braking and stopping distances. Keeping a 'buffer zone' between your HGV and other vehicles gives you greater opportunity to react safely to other drivers' behaviour. 
7. Let it shine. Using your lights will help you keep an eye on the vehicle in front to maintain a sensible distance. They will also make other road users aware of your presence,
8. Stay frosty. Be aware of black ice, which forms quickly and is difficult to spot. Look out for a significant reduction in tyre spray from the vehicle in front of you, or ice build-up in the corner of your windscreen, antenna or mirror arms – these can all be signs of black ice on the road.
9. Know when to stop. When the weather becomes too much, put safety first and stop your vehicle. In low visibility, do not stop on the hard shoulder. If possible, navigate to the nearest truckstop, petrol station or services and wait until conditions improve. Certas Energy's network of bunker sites provide safe, secure places to wait out poor weather in comfort with a range of convenient facilities. 
10. Don't be afraid to ask for help. If you become stranded, use your phone or the spare in your survival kit to call a breakdown service or the emergency services. Be sure to stay in your vehicle and let help come to you.
To learn more about how Certas Energy's complete fuel and lubricant management solutions can keep your vehicle moving this winter, download the transport brochure here.